Snow White and the Seven Dwarfs
Paul Hendy
Evolution Productions
Marlowe Theatre, Canterbury
–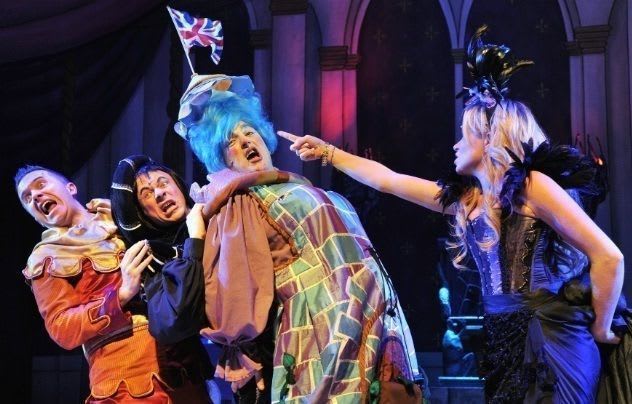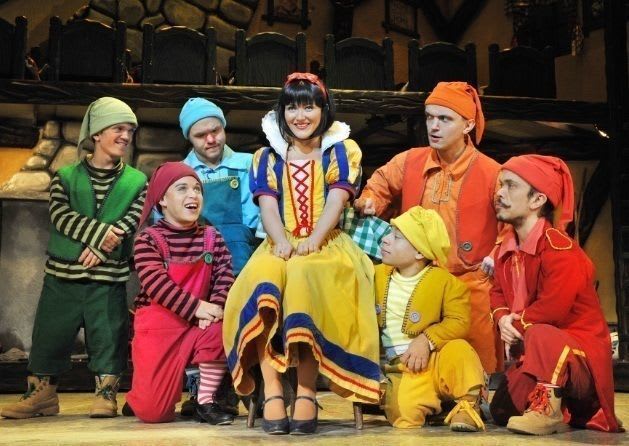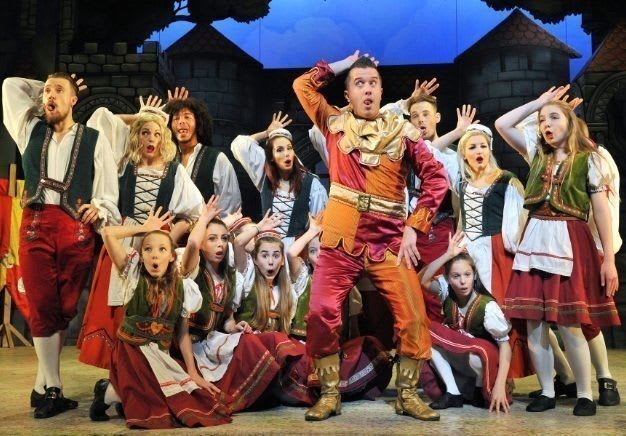 Once in a blue moon, something very magical happens in Pantoland; the planets align and assemble a cast of stellar pedigree. This year's Snow White and the Seven Dwarfs at the Marlowe Theatre features the finest array of performers the Canterbury venue has seen in a show that pulls out all the stops.
There aren't many pantomimes with puns about the linguistic differences between similes and metaphors, Shakespeare's Romeo and Juliet or post-impressionist artists, but then there aren't many pantomimes like the Marlowe's. Paul Hendy puts comedy right at the centre of his script and this playful nature and sense of anarchy, combined with plenty of heart, seems to be the secret formula for pantomime success.
From the overture's "Bring Me Sunshine" / "Mah Nà Mah Nà" mash up to the orchestral underscoring of Steptoe and Son for comic effect, Evolution Productions' pantomimes celebrate the best of British comedy. Not only does the Marlowe's production reference many a comic great, it also features them, with the theatre now home to an almost resident team of rib-ticklers in the form of Ben Roddy, Lloyd Hollett and Phil Gallagher.
Roddy's Dame is a sight to behold: bold, brash and, this year, a Hollywood superstar. After a slightly long introduction by way of the silver screen, Nurse Nellie parachutes and abseils her way into the theatre in the first of many an impressive entrance from the fly floor.
This season, Roddy's Dame is joined by Herman the Henchman and Muddles the Jester in the form of Hollett and Gallagher and the terrific trio act as a unit as they deliver their comedy patter full of energy, passion and precision. Such skill comes from seasons of working together and the audience enjoys seeing their favourites back together again as members of their extended family.
Each gag is perfectly timed and, in addition to the now-traditional pun-run, this year 42 consecutive fish jokes, 2015's panto sees a running gag result in a tremendous finale that pays homage to one of Britain's greatest rock bands of all time.
New to the Marlowe Theatre and Pantoland, Rita Simons's Wicked Queen Ivannah is the most exciting new Villain on the scene: sultry, snide, shrewd and scheming. With an enviable cackle and a stunning voice, her "Sweet Child of Mine" is a showstopper complete with added spectacle in the form of Matt Edmonds and Valentina Bor's death-defying skating act that puts a spin on the Wicked Queen's transformation.
Fresh lyrics to popular classics give the show an even higher bespoke feel than usual and Hendy has unearthed a fine Principal Boy and Girl in Ben Carruthers and Katie Monks who give the roles a twenty-first century edge with their beat-boxing introduction to one another replacing the usual soppy mush.
The Seven Dwarfs are given greater depth in character thanks to the opportunity to show off their skills from acrobatics to football and tapdancing, with Craig Garner's lovable Cheeky also tugging at the heartstrings in a tender song about his love for Snow White.
Musical director Chris Wong's 21st Marlowe Theatre pantomime continues his fine reign of atmospheric music and underscoring that brings real emotion to each scene whilst the eight-strong ensemble ensure the production's pace never wanes with their energetic and finely-executed choreography courtesy of Jono Kitchens.
Full of comic capers and the finest villainy, Snow White and the Seven Dwarfs is a vintage year for the Marlowe Theatre and a glorious celebration of the skill and joy of pantomime performance.
Reviewer: Simon Sladen