Snow White and the Happy Ever After Beauty Salon
Mike Akers
The Wrong Crowd
The Drum, Theatre Royal Plymouth
–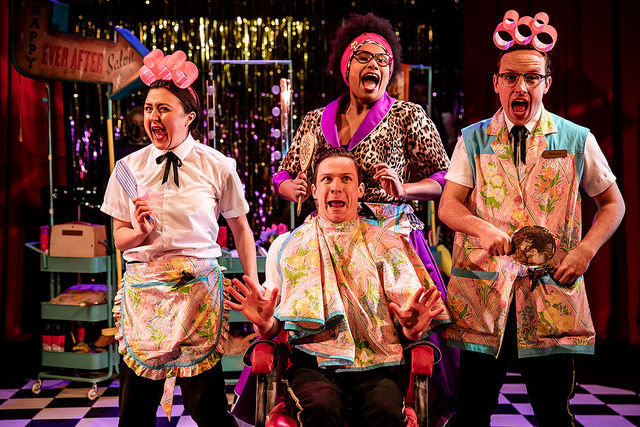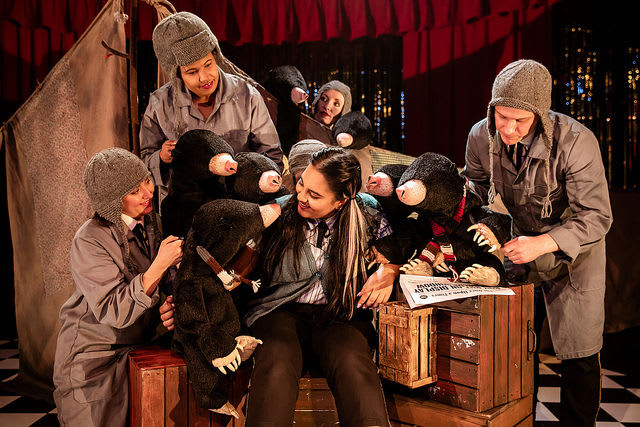 Such good fun—slick, inventive and not a 'he's behind you' to be heard.
The ever-innovative The Wrong Crowd fuses story, physicality, puppetry and music to twist the iconic tale of Snow White into a fast, comic romp.
Snow is sent to live with her wicked aunt when her OCD father dies of apoplexy (before the end of the song) when a molehill appears in his perfect lawn and her mother locks herself away to mourn.
Aunt Trish is a self-made woman: beautician to the fairytale famous and owner of a magic mirror-filled relaxation room complete with imaginary friend. Prince's quiffs, hairy chinny chin chins and a bi-monthly brush with a huffing and puffing Big Bad are part of the daily grind in a salon where the blades are razor-sharp, hair dryers are brain-fryingly hot and powder puffs lethal.
In a take where inner beauty is all-important, Snow escapes the assassin's scissors into the woods to wind up with seven moles, blind to more than her physical attractions, cooking worm stews, inventing scat nav (cue poo jokes) and epiphany-inducing mudshakes.
With five actors populating the stage with myriad characters in swift succession and, when not forefront, joining music maestro Sophie Byrne on the dais playing multiple instruments and providing vocals (with Kuran Dohil particularly noteworthy) or manipulating the puppets.
There is no dashing prince rescuing Snow—she is a modern woman who is perfectly capable of rescuing herself (so no Disney-esque issues over consent, misogyny etc)—although Prince Charming does have his moment of rescue and a dead cert happy ever after.
Confused? This is clever, witty, laugh-out loud entertainment. Loved every minute and not just for Anne Odeke's superb deadpan delivery and facial expressions and Eloise Seckers's excellent timing and wide-eyed demeanour. Matthew Cavendish's top hat 'n' tails song and dance routine is a highlight while Edward Hole's Frederico is nicely understated.
Mike Akers's script is tight and funny, director Hannah Mulder keeps the action pacy while Artistic Director Rachael Canning's puppets and props are tremendous.
With lots for adults and kids alike, it's well worth an 80-minute investment of anyone's time.
Reviewer: Karen Bussell