Snow White and the Seven Dwarfs
Jamie Smith and Nick White
Yvonne Arnaud Theatre
Yvonne Arnaud Theatre Guildford
–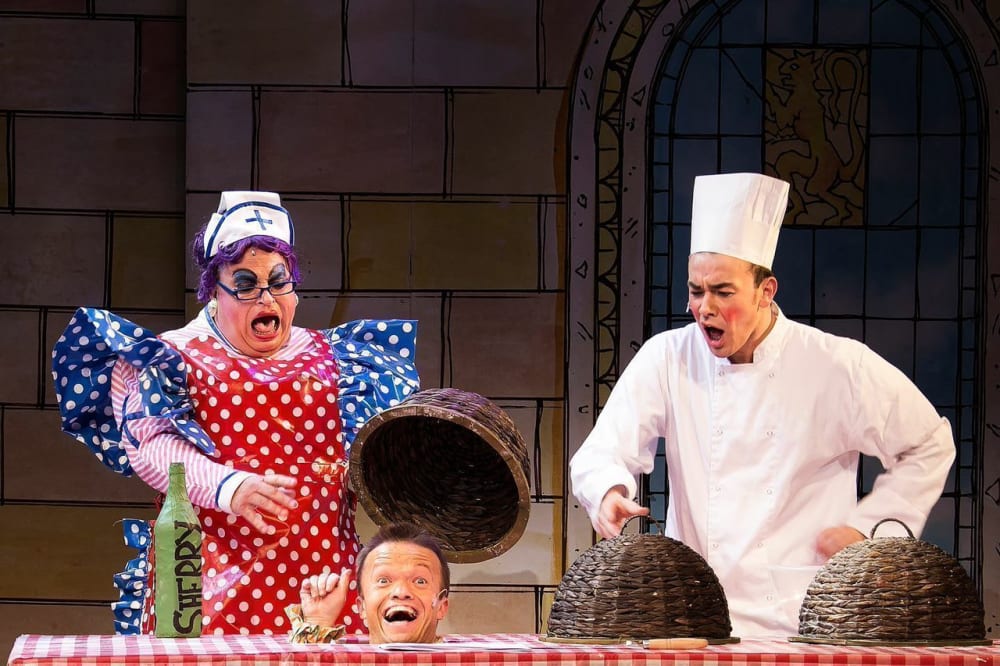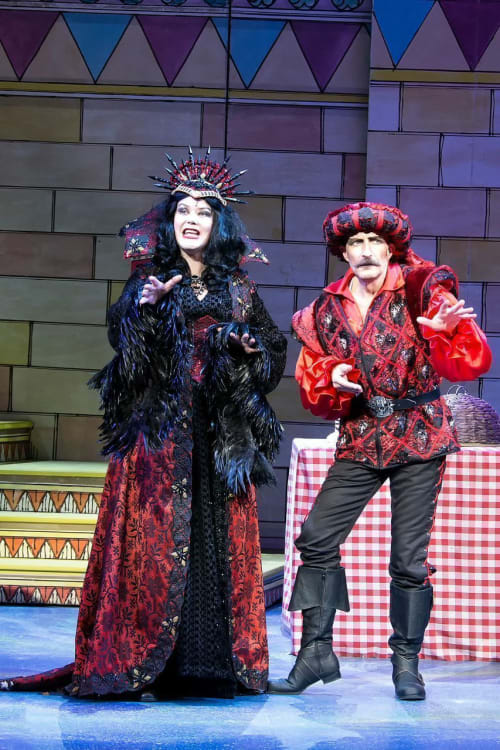 Guildford prides itself on producing a truly traditional pantomime. It has kept to this format for years and I was quite surprised to find I would have been really disappointed if they had not performed the ghost scene or the "Twelve Days of Christmas". I'm sure the rest of the audience would have been disappointed too as they were ready for them.
As I have mentioned in the past, it's just like an annual family party and great fun. It just wouldn't be Christmas without it, and there are plenty of topical references to keep it fresh.
This year is extra special with seven dwarfs to look after Snow White. Cheeky makes his appearance early, his head popping up through a hole in the table where Nursey Nana is doing her baking. Roy Griffiths really suits his 'dwarf' name with his appealingly cheeky grin.
Loosely connected with baking, there is slapstick aplenty, and very messy it is too, with a hapless Jamie Brook as Muddles taking the brunt of it; he has a few close encounters with custard pies in the "Twelve Days of Christmas". Sometimes you just have to suffer for your art.
For the first time in many years, Royce Mills is not here as a Dame. He's become an institution and I did miss him, but local lad Peter Gordon (radio presenter, producer and company director), in his ninth consecutive Arnaud pantomime, has taken over as Nursey Nana and is doing an excellent job.
There are two villains in this story. Josie Lawrence is a terrific Morgiana the Wicked Queen, with Kit Hesketh-Harvey equally equally villainous as Herman the Henchman. Their rivalry begins with each vying for the most 'boos' from the audience. When they have finished being villainous, the curtain rises on a happy and very colourful village scene with some terrific dancing from the ensemble.
Audiences always love ''things wot' go wrong", especially the sight of performers trying hard not to laugh, and there are plenty in this show. Who cares whether or not they are contrived? Just as funny either way.
Amy Matthews, in her third year at Performance Preparation Academy, is a sweetly pretty Snow White, and I just loved Peter Dukes (who trained at The Guildford School of Acting) as Prince Charming with his really Royal accent.
Musicians, under the direction of Auntie Mary McAdam, are hidden in the wings, but just as effective from there. The musical numbers go with a swing or, in the case of Josie Lawrence's brilliant rendition of "Eye of the Tiger", with a ROAR. I loved too the tap number to "I would walk 500 miles" where not only the ensemble but also the very professional juveniles danced their socks off.
It's after the interval that the full complement of dwarfs make their delightful entrance, marching down the aisle to the traditional "Hi ho, hi ho" and back to their cottage where Snow White has taken refuge. Of course the Wicked Queen arrives at the door with the poisoned apple. The little girl behind me was going berserk shouting "No, don't open it. No don't eat it. No. No!" followed by "Stupid Girl. I TOLD you!" when Snow White falls down dead.
A satnav is used for Muddles to find his way through the forest with "make a U-turn" so often he ends up where he started. Sound familiar? So there he is still lost—what an opportunity for gGhosts.
Altogether a pantomime with everything that a pantomime ought to have—and then some more. As always—loved it!
Oh, also June Whitfield appears in the mirror—how's that for magic?
Reviewer: Sheila Connor