Snow White
Original Brothers Grimm fairy tale developed by Mike Tweddle and Rina Vergano
Tobacco Factory Theatres, New International Encounter and Cambridge Junction
Factory Theatre, Tobacco Factory Theatres, Bristol
–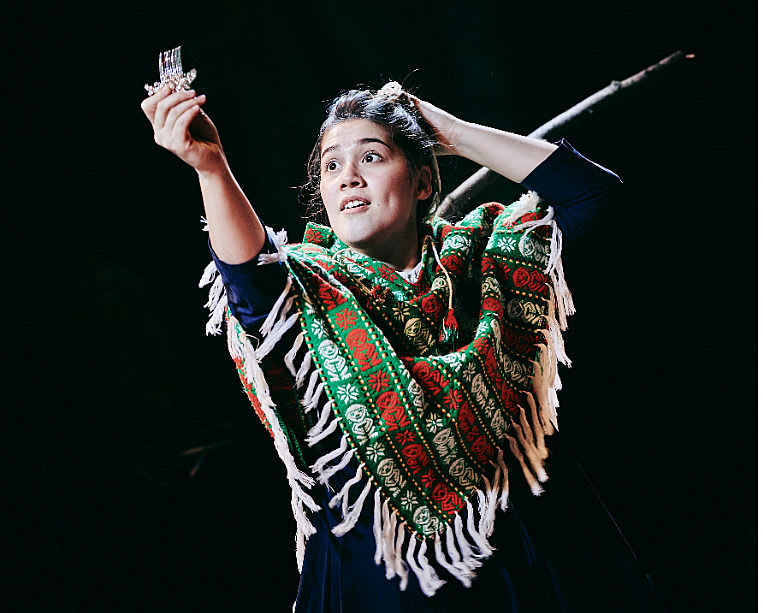 New International Encounter has playfully updated the familiar Brothers Grimm fairy tale of Snow White into a magically captivating story with redemption at its heart. Previously seen at Cambridge Junction in 2018, the original six-strong cast of actor-musicians reprise their performances for the Tobacco Factory in a show full of laugh-out-loud humour and audience asides, bound together by an effervescent and verbally dexterous live score.
Joey Hickman and Elliot Davis's compositions set the scene from the start. In a time before Wi-Fi, mobile phones and Game of Thrones, in a song rhyming Daily Mail with curly kale, Jodie Davey's Snow White prefers the outdoors to the cold confines of her castle home but is bound by the conventions of her day. For her sixteenth birthday party, she is reluctantly primped and preened by her stepmother the Queen, a woman whose vanity sets conventional beauty above all else.
This wicked stepmother is no mere one-dimensional embodiment of evil, however. Instead, Stefanie Mueller steals much of the show with a portrayal full of emotional complexity, casual amorality and hysterically funny audience-involving deliberations. Her full-length oval looking glass is less of a mirror and more of a portal into another world—a frame that, Alice-like, she steps through daily for the ensemble's ethereal voices to reassure her she really is fairest of them all until, on Snow White's seventeenth birthday, the message changes.
The ensemble makes the most of the simple staging—also designed by Mueller—to recreate the storybook castle and its gardens with a chaise longue, carpet and sliding stands of branches, with props descending from the ceiling. When Snow White is warned by the Huntsman (Abayomi Oniyide) that he has been sent to kill her for surpassing her stepmother's beauty, she makes her escape into the forest where yarn-bombed pillars and rattan rugs set the scene for her new yurt-style home, occupied by a hapless band of numerically challenged vegans.
Director Alex Byrne explores the full parameters of the Factory Theatre's intimate space, with cast members clambering through the audience and descending from the aisles. Even if there is noticeably more padding in the second half—the collective obsessively and inaccurately recounting their number and repeated attempts by the Queen to kill Snow White—then the energy and momentum never lets up. Mueller embraces her various disguises with gusto and her final attempt, with a poisoned apple that she declares most definitely organic, is the most hilariously apt of all.
For all its light-hearted references to vegan stew and recycling, this homespun fable's nuanced contemporary morality acknowledges the difficulties of aging in its rejection of vanity and the temptation to build artificial walls and borders in its counterargument for tolerance, inclusivity and forgiveness. The Tobacco Factory has a strong tradition of uplifting family Christmas productions and Snow White is up there with the best; a show that bubbles over with entertainment for both adults and children, carried through by this tightly knit ensemble's inherent warmth, wit and charm.
Reviewer: Claire Hayes