Snow White
Paul Hendy
Sheffield Theatres and Evolution Pantomimes
Sheffield Lyceum
–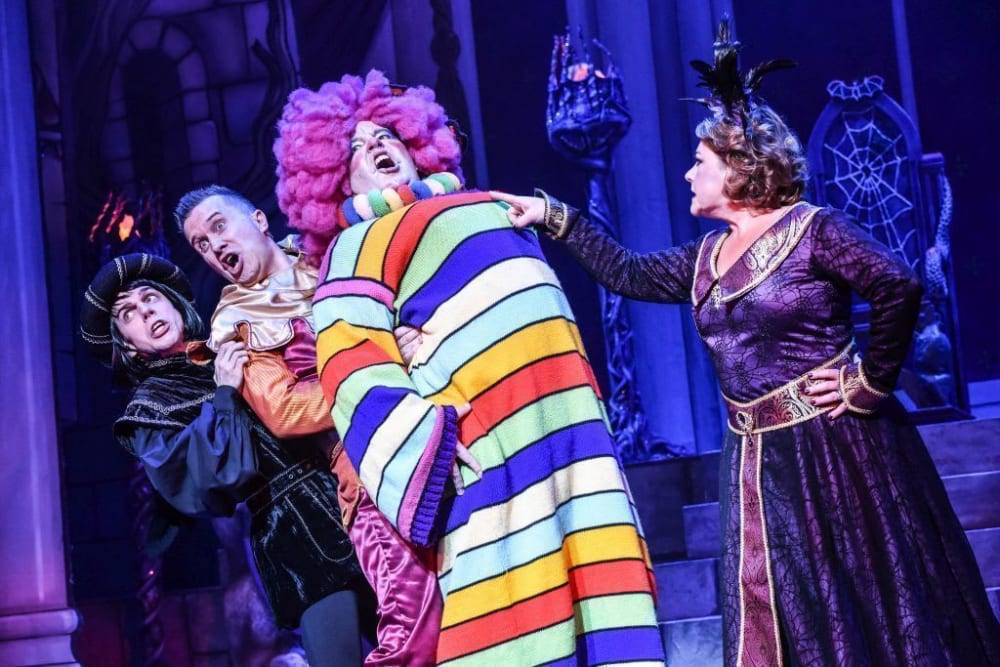 The Lyceum's traditional pantomime is a cornucopia of delights. Familiar characters and comedy routines are in place but this year the innovative use of projected images adds thrills and magic.
A trio of comic characters binds the show together. Damian Williams appears as Nurse Nellie in a sequence of delightfully hideous costumes, sometimes skin-tight (bosom revealing) or short-skirted (leg revealing) and hectors the audience and his fellow players at full volume in his inimitable mock-bullying manner.
Phil Gallagher, who will be familiar to young members of the audience as CBeebies' Mister Maker, is a welcome addition to the cast. He has wonderful rapport with the audience and has no difficulty getting everyone to join his gang. He deals well with the "can't hear you" routines, counts the children in and moves on swiftly to the next item. His warm personality encourages response particularly in the friendly singing competition.
The third member of the threesome is Richard Franks, who has also appeared on CBeebies; he contributes well to the slapstick and physical comedy sequences and wows the audience in the second half with a stunning Freddie Mercury impression.
But the play is essentially about Snow White, her wicked step-mother, her encounter with the seven dwarves and the happy ending when she is saved by her handsome Prince.
Joanna Sawyer is a lively, beautiful Snow White who has excellent rapport with Oliver Watton as Prince Charming. They both sing well and Watton, introduced at an early stage in the action, delights with several well sung solo items.
Wendi Peters, known for her role as Cilla Battersby in Coronation Street, is a magnificent pantomime villain as the evil Queen Ivannah (Trump?) She manages to be wicked without being frightening and has an outrageously splendid cackling laugh. She is booed with great enthusiasm.
After a strong start, the first half loses some momentum until the arrival of the Seven Dwarfs, who are real dwarves, experienced performers in pantomimes and other media, who charm the audience with the warmth of their personalities, humour and wide range of performance skills.
Each dwarf is clearly characterised: Graham Hughes as Brian is a bit of a misogynist, Jite Ighofrodje as Brains can do mental arithmetic, Andrew Martin as Sarge is a strong group leader, Krysten Coombs (Sniffly), Kain Francis (Loopy) and Deano Whatton (Groover) are what their names suggest.
All the dwarves sing well but Craig Garner as Cheeky has a particularly beautiful voice and he gives a sensitive performance in an extended scene with Snow White when the issue of "not being tall" is addressed. We are a long way from Walt Disney here.
The costume design is varied and visually exciting, particularly in the large ensemble pieces in the second half, and Helga Wood has distinguished herself with her charming interior and exterior designs which respond well to magic. The ensemble of singers and dancers including the young group perform with energy, enthusiasm and smiling faces.
My one reservation is that the high volume on the mics worn by the cast occasionally blurred meaning, especially in quick-moving exchanges between the comic characters. This was a pity since I missed quite a lot of the jokes.
Otherwise, a thoroughly enjoyable seasonable entertainment enhanced by good performances and exciting visual effects.
Reviewer: Velda Harris