Snowflakes
Robert Boulton
Dissident Theatre Company x Chronic Insanity in association with Park Theatre
Park Theatre (Park 90)
–

Listing details and ticket info...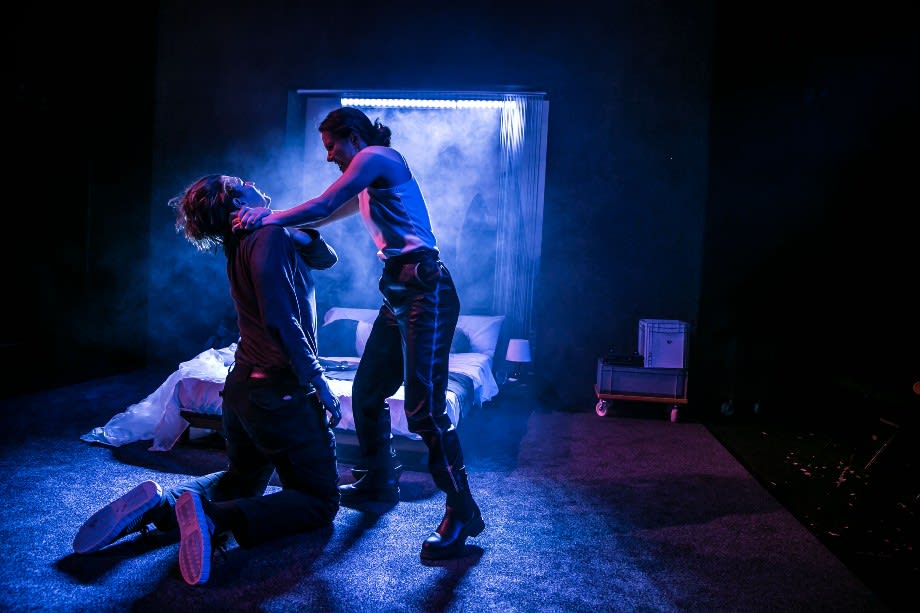 Dissident Theatre Company clearly wanted an old-fashioned shoot-em-up B-movie thriller in which everyone fights to the death over nothing in particular. Since it runs for two hours with only three characters, that means there's a good deal of fighting before they get around to the killing moments.
Having read too many copies of the Daily Mail, the company try to give the show a topical-sounding flavour with its tabloid trigger word title of Snowflakes and a Park Theatre web site description claiming the play takes "Cancel Culture quite literally to question ideas of morality, revenge and justice with gleeful, violent abandon."
That account refers to the arrival at a hotel room whose window is within sight of London's Gherkin building of the two contract killers, Marcus (Robert Bolton) and Sarah (Niamh Finlay), to force a filmed confession from Tony (Henry Davis), the online notable, before executing him on camera. It is never clear what Tony is notable online for, though in his confession he says he's "been called a liberal reactionary… a left-leaning alt-right."
It is also not revealed why he is to be killed, though ninety-five minutes into the play, the killers fleetingly mention he has been accused of rape and sexual assault, to which he briefly states that the incident was consensual and then everyone moves on.
Much of the early part of the show is taken up with arguments between the killers. Sarah claims they are "part of something new… a public service." Marcus insists it's simply revenge and he is concerned that Sarah on her first job of this kind might not be sure what she needs to do.
She says that is just sexism, and the Park Theatre web site does tell us this is a play about "female empowerment", so when she starts to unload a pile of big knives, some of the audience watching might have wondered if this was echoing the Valerie Solanas SCUM (society for cutting up men) Manifesto.
But the knives are put away and Sarah spends much of her time looking uncertain about what to do, till she gets a call on the hotel landline from their female boss and her squabbling with Marcus takes on hints of Pinter's The Dumb Waiter.
The problem with all this is that, in addition to the characters lacking motivation and there being an absence of any serious consideration of an issue or purpose, the play seems to take a long time to get anywhere. It also emphasises the mass of improbabilities in the plot.
The filmed killing is supposed to take place in a central London hotel, which presumably has a management, a workforce and a bunch of guests who are not concerned about shots being fired, blood covering the furniture and dead bodies being carried out. The easygoing killers somehow got Tony into the hotel without him having the faintest idea how that happened and then let him have a long sleep before visiting him in the morning claiming to be room service. He even has time to phone his wife, to whom he could easily have mentioned he was in a hotel overlooking the Gherkin.
Still, the arrival of the killers in militaristic clothes spurs him to walk for the exit only to be knocked out at least twice. Despite this, Tony has a tendency to flip from panic to complacent bemusement.
When he is sat in an armchair being told to make a confession before execution, he prefers to make small pointless jokes about what the assassins are up to rather than make an escape. Even as Marcus in one of his monologue moments crouches down with his back to Tony and his gun poking out of a pocket within easy reach, the opportunity to grab it and use it to escape is ignored in favour of giving the audience another laugh.
Although the actors do a fine job of holding the attention of the audience, the slight and implausible nature of the script will leave all but the keenest fans of Hollywood throwaway crime movies of the 1950s fairly dissatisfied.
Reviewer: Keith Mckenna