The Snow Queen
Hans Christian Anderson, adapted by Charles Way
Sherman Cymru, Cardiff
(2008)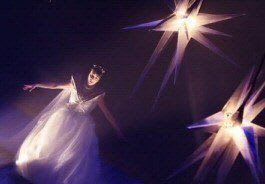 The Sherman's Christmas offering is a smörgåsbord of everything you could ask for in a family Christmas show: characters that light up the stage; a wonder-world of magic and invention and a spectacular set that carries you off, whatever your age. Anna Linstrum directs this enchanting production of Hans Christian Anderson's classic tale.
Charles Way's adaptation is well-pitched for a family audience. The set (Chloe Lamford) and lighting (Ace McCarron) design lend the production its wash of magic, given all the more impact by Stefan Podolczuk's atmospheric sound design.
A strong cast seal the deal on this one. Lynn Hunter opens the show as the loveable Grandmother, drawing the audience in and setting the tone for the evening. Later she reappears as the Queen of Spring, Mrs Dear: Widow Twanky, cut through with glimpses of the sinister. Anna Mountford is a mesmerising Snow Queen and Liam Lane as the troubled Cei and Sue Appleby as the heroine, Gerda, give strong performances in the leads. But good support comes from the remaining cast of four, taking on a colourful array of roles. Amy Starling is delightful as the loveable Elisa and the narcoleptic Snow Drop. Nathan Sussex is the wonderfully dour Mr Overskou and transforms into the beautifully narcissistic Daffodil and the exuberant JJ. James Russell does well as the boisterous Bindweed and the quirky Prince Fred. Claire Sundin as Mrs Fyn and the endearing Princess Frederica, complete with temper tantrums and speech impediments.
Certainly, there's a little too much exposition in the opening sequences, and in places, the production leaves you wanting a more heightened sense of peril. But these are minor concerns that don't detract from the evening's dazzle. This is a great show with a strong cast, beautifully staged.
At the Sherman Cymru until January 10
Reviewer: Allison Vale