The Snow Queen
Adapted by Peter Roberts from the fairy tale by Hans Christian Andersen
Derby LIVE
Derby Theatre
(2009)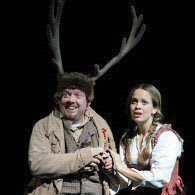 The Snow Queen is the first Christmas show at the former Derby Playhouse since the ill-fated Treasure Island two years ago brought the curtain down on the theatre when it went into administration.
Derby LIVE has taken over the venue and is establishing a reputation for bold programming. The new season of home-produced theatre started with the premiere of Tim Elgood's The Pros, The Cons and a Screw. Now Derby Theatre is giving us a daring Christmas production, a Hans Christian Andersen classic which you probably won't be able to see anywhere else in the country.
The Snow Queen is considered one of Andersen's best stories. It's great family entertainment as it centres on the triumph of good over wickedness, yet there's a dark side to it which will be appreciated by the more mature members of the audience.
The story tells how a mirror which magnifies evil shatters into billions of pieces. One of the shards gets into the heart of a boy, Kay, turning him into a cruel, aggressive character. The following winter he's abducted by the Snow Queen.
His friend Gerda sets out on a perilous journey to rescue him. She meets a collection of strangers who're taken in by her innocence and help her to get to the queen's palace.
The Snow Queen has been adapted by Peter Roberts who's worked with both Derby Playhouse and Derby LIVE before. His version is an absolute cracker, with magical scenes including everything from talking crows to a drunken reindeer.
He has Hans Christian Andersen himself telling a new story to the Duke and Duchess of Augustenborg and their children. He's goaded into telling a new, unwritten story - and has to rely on his imagination to get him through the evening.
Daniel Crossley is the man who becomes Andersen's imagination personified and he does an excellent job: he's continually enthusiastic, effervescent and eager to drive the story on with a fair amount of pace.
Lewis Hancock is content to play a supporting role as the scholarly, unadventurous Andersen who's the complete opposite of his alter ego.
Emma Westhead as the Snow Queen and Tom Haywood as Kay give somewhat understated performances, keeping their evil in check considering the very young age of some members of the audience.
There are excellent performances from Ellie Beavan as the heroine Gerda who's sweet without being sentimental; Laura Checkley who takes half a dozen roles and performs each one distinctively; Daniel Robinson who almost steals the show as a camp rose, and Derbyshire actor Sean McKenzie, revelling in his depiction of Bey the reindeer and an upstart Mr Crow.
There's something for everyone in The Snow Queen: young children will appreciate a puppet depicting the Lapp woman as well as references to snot and poo, while for teenagers the Robber Girl's colleagues are laidback exponents of beatbox. And adults will no doubt appreciate the observation by Andersen's imagination that "stories can be upsetting; life can be upsetting" when it's proved that "things are not always what they seem".
Returning to the theatre where she directed her first main-stage production nine years ago, Hannah Chissick does a sound job while Siobhan Ferrie's commendable set really is magical.
There are a couple of contrived lines which bring groans from the audience but there's little that makes you want to disagree with the Duke at the end when he proclaims: "A wonderful tale, Mr Andersen - one of your best!"
"The Snow Queen" runs until January 16th
Reviewer: Steve Orme