The Snow Queen
Stuart Paterson from the original by Hans Christian Andersen
Royal Lyceum Theatre, Edinburgh
(2010)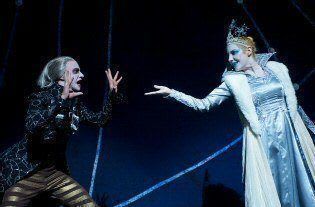 A visual spectacular with a huge array of different sets, great costumes and, to cap it all, snow. Gerda's (Helen Mackay) journey to rescue her friend Kay (Mark Prendergast) is on an epic scale, drawing on CS Lewis and Philip Pullman. She encounters quite a menagerie, ravens, reindeer and, best of all, huge polar bears, on her way.
The Lyceum also proved prophetic with their snow-centred production, though admittedly the snow shower on the audience at the end of act one wasn't quite so magical if you've been trying to survive in Edinburgh for the last month. The audience was still taken by surprise and there were quite a few gasps, though you might have thought we'd be rather over the whole snow thing by now.
Aside from the effects and the imaginative set, which one does tend to take for granted at the Lyceum, there were several performances that bring the show to life. As Kay is kidnapped early on by the Snow Queen (Allison McKenzie) and disappears, Prendergast got the opportunity to play a host of fun characters, his shrill raven and camp Russian bandit were perfectly pitchted.
Hans Christian Andersen's story is quite dark and cold, but without descending into immaturity this production did give it a lighter feel and throughout most of the journey this was thanks to the many jolly characters played by Julie Duncanson, whether it be human or bird or red-cheeked Russian robber. She was the crazy aunt you wish you had!
The animal costumes deserve a special mention, Cobweb Spider (Robin Laing) was kitted out in the most beautiful sculptured tail coat and hair, although his physicality could probably have pulled it off in much less. On the cuddly front though, the polar bears and reindeer made you want to jump on stage and nuzzle in their tempting soft pelts.
You might think you are sick of all the snow, but don't be put off this production on those grounds: it is beautiful and, despite all the ice and snow, has a very warm heart.
Until 31 December
Reviewer: Seth Ewin