The Snow Queen
Hans Christian Andersen, adapted by Charles Way
Rose Theatre, Kingston
(2011)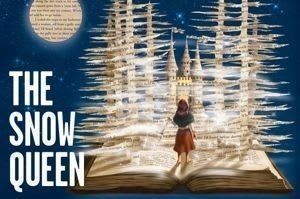 A veritable staple of Christmas theatre programming, Hans Christian Andersen's The Snow Queen receives an appealing new staging at Kingston's Rose Theatre. Directed by Natascha Metherell, Charles Way's adaptation of Anderson's text succeeds in being true to the spirit of the original while also incorporating a few crowd-pleasing modern flourishes and innovations of its own.
Here, the story of a young girl, Gerda, and her quest to save her friend Cei from the clutches of the evil Snow Queen, who plans to cloak the world in a perpetual winter, plays out on an attractive set by Su Blackwell, an artist making a first, distinguished foray into theatre design with this production. Each stage of Gerda's journey through the seasons has a very particular look and tone, the mood enhanced by excellent music composed by Alex Silverman, with fiddle, accordion and guitar giving the production a beguiling folk spirit.
A standout sequence transports Gerda through the ice to arrive at the cottage of the sorceress Mrs D, the first of the transformative encounters on her quest. The most surprising episode moves us into a world of gap-year toffs and teen-speak: it breaks the mood, but features a very funny performance from Sian Robins-Grace as a decidedly modern teen princess.
Indeed, Metherell's production benefits from fine performances across the board. As Gerda and Cei, Zac Fox and Bettrys Jones suggest a close rapport in the opening scenes, and Jones compellingly charts the initially timid, panic-attack-prone Gerda's growth into courage and strength. Charlotte Roach is wonderfully warm as Cei's mother, and she, like several other cast members, proves herself an extremely skilful and versatile "multi-tasker" in a number of roles. Deirdra Morris is lovely as an archetypal story-book Grandmother and then florid and slightly sinister as Mrs D, while Michael Matus starts sternly as Gerda's teacher father Mr Overskou before transforming into an outrageously camp Daffodil in the springtime scene. And the statuesque (and fabulously costumed) Sara Stewart sweeps the stage commandingly in the title role—not an overly fearsome presence, but dispensing the requisite chills.
Overall, The Snow Queen skirts deep enchantment in this incarnation. But it's a classy and enjoyable production that offers many delights.
Running until 8th January
Reviewer: Alex Ramon