The Snow Queen
Anupama Chandrasekhar
Unicorn Theatre
(2011)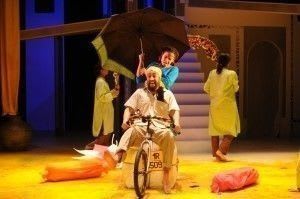 This is a retelling of Hans Andersen's fairy story that transposes it to India, loosely adapting the various elements of the story in which the original Gerda and Kai now become the girl Gowri who sets out to find and rescue her friend Kumar who has been taken by the Snow Queen to her Ice Palace in the north.
In Sophie Lovell Smith's design, the stage floor becomes the sandy beaches of southern India where the friends can play and squabble, paddle in the ocean and find shells in which to hear the waves, but behind them rise the steps and halls of the Ice Palace far away in the Himalayas and it is there that things begin with Nimmi Harasgama's cold-hearted Snow Queen, elegant in white satin and glittering ice diamonds. The Queen's son has been killed in a recent war and this has made her hard and vengeful. She has two women before her, sisters whose crime seems to be that they have had no such loss. Their punishment is to look in a magic mirror which reveals the unpleasant side of personalities: anger, jealousy and suspicion, stripping away their good sides. The first sister looks into it, is turned against her sibling and imprisoned. The other breaks the mirror and escapes, but each fragment of the mirror still has the power to enter human hearts and change them.
The sister who escaped is then seen telling this story to the children who treat her like an auntie, a lovely warm performance from Pooja Ghai. She tells them it is true and warns them of the Snow Queen's power. They are happy playing together when something happens that one thought could never happen at the southern tip of India: it starts to snow. It is the Snow Queen and Ashley Kumar's playful naïve Kumar, altered by a shard of mirror and tempted by her promises, is carried off to her palace. She keeps him there by giving him everything he wants.
Auntiji realises what has happened and she and Gowri set off to rescue Kumar; the body of the play is that journey to the cold ice of the North, though Auntiji finds it very heavy going and Gowri insists that she goes on alone. Among the people she meets on the way is the dazzling but daft Sea Goddess (Harasgama again), who helps by getting her on a boat to get her up the coast, an even crazier Kaka (Asif Khan), a rickshaw cab driver mad about speed who takes through the helter skelter streets of Mumbai where she find herself on a Bollywood film set. She hitches a ride with the crew when they go on location further north, meets a three headed man and then is ambushed by bandits. Their female leader offers help, providing a horse to take her onward until at last, alone, she has to find her way past a tree with special power and then gain entry to the Ice Palace.
The beautifully organised transitions from one location to another and the wild ride through Mumbai are a delight. The Bollywood sequence is hilarious, complete with a Bollywood fight between Raj Bajaj's gangster and heartthrob romantic star (Ashley Kumar) and a dance routine. In real life, it is gangster Bobby whom Deelvya Meir's actress is in love with and Gowri interferes with the production to make sure the right guy gets the girl.
This is a show full of colour and things happening. The schools audience I saw it with lapped it up from the moment the lights went down. They were held from when they first saw the Ice Queen and her Jinn attendant in her palace right through until Gowri helped Kumar solve the Queen's puzzle challenge to bring freedom and a happy ending. Director Rosamunde Hutt has created an ensemble production in which an actor may one minute be a stage assistant scattering snowflakes and another be playing a cameo role or a major character except for Amaka Okafor's brave-spirited Gowri who is always at the heart of things. As she says, girls may have to do twice as well to get noticed but she certainly has all the children on her side.
"The Snow Queen" runs at the Unicorn Theatre until 8th January 2012
Reviewer: Howard Loxton