Snow White and the Seven Dwarfs
Written by Dennis Chritchley, adapted by Brenda Lefevere
Theatre Royal, Nottingham
(2005)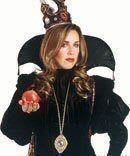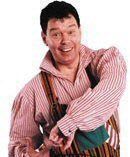 Whatever your views on panto, one of the most remarkable aspects is that a cast can put on a show with very little rehearsal time. Take the Duo Entertainment production of Snow White at Nottingham Theatre Royal, for instance. The actors had less than two weeks to get to know one another and the script before they were thrust onto the stage in front of a paying audience.
The choice of music was probably dictated by the short preparation time: Keavy Lynch, who plays Snow White, sings C'est La Vie, which was a hit for her group B*witched, while Claire Sweeney as Queen Esmeralda predicts what will happen to Snow White in"She Has It Comin'", a slight variation of "Cell Block Tango" "(He Had It Comin'"), the song she knows so well from her days playing Roxie Hart in Chicago.
But by bringing in actors with a wealth of experience of either panto or another branch of popular entertainment, the producers have come up with a slick, funny, enjoyable show without trying to be too ambitious.
Sweeney is superb as the wicked queen, glamorous, confident and with just the right amount of overacting so that she doesn't descend into a caricature.
Bryan Burdon brings many years' expertise to the role of Dame Doughnut, delivering his lines expertly despite having to tell some of the oldest jokes in the comedian's handbook. He also brings joy to the children with his dancing to a Beyonce number in the second half.
The dwarfs are individually comical and witty, with Jack Goffe a cheeky youngster who is loved by everyone. And the Theatre Royal Babes hardly put a foot wrong.
But the man who steals the show is Andy Ford as Muddles. He has the young children screaming with laughter, the older ones love his cheekiness and there are a few asides for the adults too. He can ad lib to get extra laughs and his final routine, when he has the whole audience up and down faster than a jack-in-the-box to the song "Bring Back My Bonny To Me", is hilarious.
However, I didn't like John McArdle's portrayal of Jason, the queen's henchman. He isn't nasty enough as a baddie; he's one-dimensional, snarling and growling merely for the sake of it.
Although Lynch looks good, she doesn't have a particularly powerful voice and she's sometimes drowned out by the band. She also has an annoying habit of majestically sweeping her arms in front of her whenever she speaks, a trait which director Brenda Lefevere ought to have picked up.
The sound balance wasn't quite right in the early scenes and a few sound effects were in the wrong place - small problems which no doubt will be ironed out before too long.
The show came to a spectacular conclusion with a sparkling array of costumes for the wedding scene. Such a shame that we saw them for only a very short time. It seemed so much effort had gone into them and you didn't get the chance to appreciate them.
Snow White is a sound, uplifting Christmas offering which doesn't disappoint. It's a success - even though the obligatory "slosh" scene is missing.
"Snow White and the Seven Dwarfs" runs until January 22nd
Reviewer: Steve Orme