Snow White and the Seven Dwarfs
Guy Pascall and Simon Barnard
New World Productions
Whitley Bay Playhouse
(2010)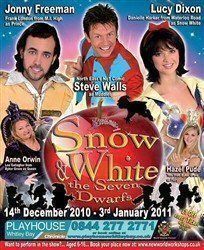 It is a real education for a critic to see a panto, not at a press night or a gala performance, but at a matinee - and especially a matinee which is packed with primary school parties. That way you get to see - and, if you're sitting near the front as I was, hear - panto in the raw!
This is how I saw Snow White and the Seven Dwarfs at Whitley Bay, in an audience which also included a lot of pre-school children (and their excitement was palpable, long before they actually went into the theatre) and a small number of disabled adults. And they loved it!
The Playhouse is a small venue and doesn't have the wherewithall to spend big bucks on its panto. There are no spectacular special effects - the magic mirror, a TV screen surrounded by a frame which flies in when called, is as far as it goes, but that's all that's needed - and no A-list celebrities. The eight strong cast (nine if you include the man in the mirror and don't count the Babes) has two "high profile" members - Lucy Dixon from Waterloo Road as Snow White and Jonny Freeman (MI High) as the Prince - and the rest are co-writer and director Simon Barnard and local professionals. Foremost among the locals are comic Steve Walls as Muddles and Anne Orwin (Lou Gallagher in sixteen series of Byker Grove, with plenty of other stage, TV and film experience) along with the three dancers: Ashley Elliott, Karleigh Wright and Hazel Pude (who also plays the Fairy).
The sets are bright, colourful but simple and the costumes appropriate but unchanging, except, of course, for the walk-down. The Dwarfs, as is the common practice nowadays, are played by children in big heads and their voices are pre-recorded by adults. A recipe, you would think, for a workmanlike, possibly even slightly dull, show.
Not a bit of it! It's full of life and energy and pitched perfectly for its target audience. There are, perhaps, a few too many songs - the little 'uns do tend to lose interest with them - but there's enough comedy and slapstick to keep them laughing, enough audience participation to keep them involved, and the show never loses sight of the story - and that is very important. And some of the sings are very well chosen to appeal to young chidlren. It's a bit of a stretch to call it, as the programme does, "lavish" and an "extravaganza" but it does something much more important: it entertains and holds its audience - and this critic who has seen, worked on, written or directed more pantos than he cares to remember!
It's the genuine article, not a panto-ised version of the Disney film, and that can only be good!
Running to 3rd January
Reviewer: Peter Lathan