Snow White
Marc Day
The Broadway, Barking
(2010)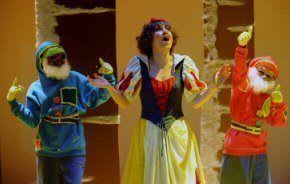 Snow White is a relative newcomer to the pantomime fairytale family; however her tale is one of the most popular. Changing from last year's advertised Red Riding Hood, the Barking Broadway presents this female-led narrative set in the fictional town of Barkenham, where wicked Queen Morgiana's magic mirror has started to sprout truths that she'd rather not hear.
In the role of Queen Morgiana, Jocelyn Hughes is wicked to the core. Her snake-like Queen, full of venomous charm, elicits chilling boos and cold-blooded hissing from an audience who love to hate her. In fact, they hate her so much that one child rewarded her with a mighty shout of "You make me sick!" on the night I was in attendance.
Last seen on Channel 5's Don't Stop Believing, Rohan Richards makes a regal Prince Richard. Dashing and well-spoken, he can also charm the ladies easily with his beautiful singing voice.
As the apple of his eye, Collette Fraser's Snow White comes across as rather annoying, and, as Morgiana states, far too "sickly sweet" and twee. Her lines lack pace and are so over-enunciated that her dialogue resembles a Cambridge English language listening examination, leaving her Snow White rather empty. It is also unclear as to why she constantly has her arms bent at the elbow, with thumb and third finger joined in a position resembling an emotionless china doll.
Of course Snow White wouldn't be Snow White without the dwarfs and the junior ensemble perform their roles with great characterisation and cope well with the prospect of being hidden behind masks. The production uses recorded speech for the dwarfs and as their voices are those of the principal cast, the characters become somewhat indistinguishable at times. Voice manipulation effects have been employed to try and differentiate between the dwarfs and cast's voices, but in the case of chief dwarf Prof, it has merely resulted in him sounding rather like Darth Vader.
Musical numbers are a staple of any pantomime and unfortunately this year's choices appear rather clichéd. The Prince's 'She's The One' comes across contrived, as does Snow White's rendition of LeAnn Rimes' 'How Do I Live?' Luckily Fraser and Richards' singing voices are a joy to listen to and it is a shame they were not given more appropriate numbers to sing that did not rely on such a strong semantic link with the scene in question.
It is also a shame that the beautiful cloth used in the castle's great hall outshines the otherwise basic set and that one piece of design appears just odd and out of place. The Broadway panto boasts the most peculiar looking Fairy I have ever seen. Looking like a giant white sperm with brown owl wings, Fairy Goodheart drops down from the proscenium and if anything, looks much more like Aladdin's Genie. Why Fairy Goodheart was not played by an actor baffles me. Could the role not have gone to one of the children if budgeting for another actor was the issue here? The junior ensemble act, sing and dance most expressively throughout the show and would surely have relished the challenge?
The key difference between this year's pantomime and last year's is that Tim Major and Melissa Waudby are nowhere to be seen. They really were the Broadway panto; producing, designing, writing, choreographing and directing the annual festive treat between them for six years on the trot. Major's Dame had become an audience favourite and it seems that his high heeled shoes have proved too difficult to fill. This year, they are sadly missed.
Playing until 2nd January 2011
Reviewer: Simon Sladen