Snow White and the Seven Dwarfs
Keith Simmons and Andrew Lynford
Paul Holman Associates
Connaught Theatre, Worthing
(2010)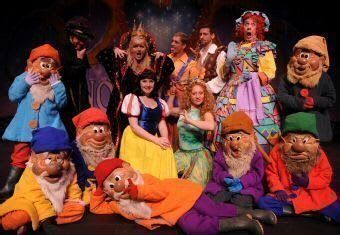 As the 2010 pantomime season marks the start of a new decade, a new era in pantomime producing has begun at the Connaught Theatre, Worthing as Paul Holman Associates present their first pantomime at the venue.
This version of Snow White, by Keith Simmons and Andrew Lynford, has an incredibly strong narrative, helped by an early introduction to the dwarfs. So often the dwarfs' entrance is stalled to become the big reveal at the end of Act One, but Simmons and Lynford's script ensures they are introduced right from the start and can therefore constitute an even more integral part of the story.
It is the dwarfs who construct a new diamond mirror for Queen Grizelda after she smashes her previous one in fury, having heard that she was no longer fairest of them all. When the dwarfs' replacement mirror repeats the call, Queen Grizelda banishes them and, on the advice of Muddles and Dame Dolly Dumpling, they take up home in the abandoned Woodcutter's cottage, deep in the forest.
Linda Nolan headlines the cast as the wicked Queen Griselda. An experienced pantomime performer, Nolan is a musical Queen and delights the Worthing audience with a rendition of Nolan hit 'I'm In The Mood For Dancing' when turned good by Angelina Treva Reiley's frantic Forest Fairy.
In his first Comic, Philip Olivier demonstrates that he still has an awfully long way to go before finding his feet in the role, having previously played Principal Boy. Delivering dialogue in a children's television presenter voice and jumping about the stage does not create a lovable Comic and Olivier seems detached from the audience, having failed to establish a shared community. This was extremely apparent in the Songsheet, where he appeared completely out of his depth and although lines were delivered correctly and direction adhered to, much of his comic tomfoolery fell flat as Olivier merely went through the motions talking at, not to the audience.
Peter John as Dame Dolly Dumpling works tirelessly to inject some much needed comedy and innuendo into the proceedings. A seasoned Dame, John demonstrates how important pantomime experience is and therby exposes his fellow cast member's weaknesses. John knows how to build rapport with both children and adults, deal with and respond to their spontaneous shout outs and summon laughs with a simple look or repositioning of a hand. Such pantomime skills cannot be taught and are only aquired through many years of Daming.
Musical numbers appear rather muffled and microphone levels need adjusting. Not all ensemble members mime to the click track vocals and with the track often at a different level to the accompanying three piece band, the delightful singing voices of Hannah Spicer (Snow White) and Grant Neal (Prince Richard of Rustington) often get lost in amongst the musical melee.
Children from Glendale Theatre Arts play the seven dwarfs in the usual Big Head costumes, which could do with reupholstering as they look old and worn. This is unfortunate when the rest of the cast's costumes and the production's set are of a high standard and transport the audience to a fairytale wonderland.
Although strong on story, Snow White is weak on slapstick and this, along with an extremely basic lighting plot, means that the pantomime lacks atmosphere. More silliness and tomfoolery will ensure that, in next year's Cinderella, everyone will have a pantomime ball to remember.
"Snow White and the Seven Dwarfs" plays until 31st December 2010
Reviewer: Simon Sladen