Snow White and the Seven Dwarfs
Jonathan Kiley
Qdos Pantomimes
The Hawth Theatre, Crawley
(2010)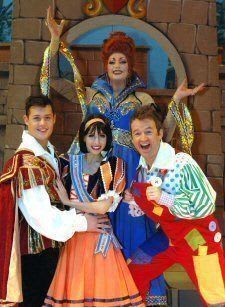 This pantomime follows the the traditional style, beginning by reading the story and introducing the characters, managing to keep the children attentive until the appearance of John Clegg as Muddles has them bouncing with excitement hardly able to wait for his "Hi Gang" before shouting "Hi Muddles" at the top of their voices. This is Jon's tenth year in pantomime, so he knows exactly how to appeal to the little ones, but even he was rather taken aback when a four year old on stage wanted a giraffe to be part of "Old MacDonald had a Farm".
Zoe Doano, a TV reality show contestant, is sweetly pretty and sings delightfully, while her Prince Harry (well it had to be 'Harry' which brought in a few jokes on the subject of the Royal Wedding) also went far in his own reality auditions, although both have had extensive theatrical training and it shows. Ben James-Ellis is as handsome and charming as you would expect a prince to be and the love scenes between him and Snow White manage to be endearing while avoiding over-sentimentality.
The show really explodes into vibrant life however with the arrival of Strictly Come Dancing's Craig Revel Horwood as the flamboyant, extravagantly gowned (and equally extravagantly bosomed) Wicked Queen Lucretia. This man has a reputation to keep up so, not content with just being nasty to Snow White, he insults Crawley, Bewbush, Worthing and anything and anyone else he can think of, and can he dance! One particularly long energetic routine of tango, samba, waltz etc. had him crawling to the wings for oxygen - a joke, yes, but I think there was some truth in it. The contestants on Strictly all seem to lose a couple of stone after a few weeks. If Revel Horwood keeps this up he will be a shadow of his former self by the end of the run.
The standard of dancing in the rest of the show also seems to have gone up a notch or two (although Revel Horwood denies any input) and choreographer Gerry Zuccarello has done a terrific job with the very talented ensemble. "The Magnificent Seven" and "Snow White's Juveiles" are from the Roche Performing Arts Schoot, most from the Crawley branch, and they perform like true professionals: well rehearsed, expressive, and not a step out of place. The seven dwarfs in particular were extremely impressive as even behind their masks and costumes their characters and meaning shone through, synchronising perfectly with the recorded voices.
The magic mirror has a life of its own, giving its opinion in a very sarcastic manner - well you would expect no less from Paul O'Grady, and even Churchill - the dog, not the politician! - makes a brief appearance.
Olly Ashmore's music swings the show happily along under Tudor Davies' pacey direction, "Soldiers of the King" is a particularly striking number. The jokes come thick and fast - mostly on the Strictly theme with many of Revel Horwood's comments coming back to haunt him. He is much too nice to be a Wicked Queen, and the cheers were as loud as the boos (something he thinks he must manage to reverse).
My two eight year old guests, Joseph and Ryan, voted it the best pantomime ever. Well, it is only their second, but I had to agree with them, and they had great fun afterwards collecting autographs (and photographs) from every member of this friendly and obliging cast, Muddles being their favourite.
I have only one word for you darlings - Fab-U-Lous! Well, I couldn't resist it!
Until Sunday 2nd January 2011
Read Sheila's interview with Craig Revel Horwood
Reviewer: Sheila Connor