Snow White and the Seven Dwarfs
Guy Pascall
New World Productions
Shaw Theatre, London
(2010)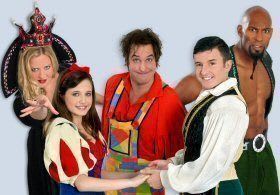 After last year's rock 'n' roll Aladdin, the Shaw have once again decided to stage a pantomime over the festive period, with this year's title being Snow White and the Seven Dwarfs.
Audience participation is extremely important in pantomime, but this production dwells on it far too much. After an extremely drawn out and wordy prologue detailing every last fact, the spotlight is turned on the audience for what appears to be a never ending introduction to the characters as they seek to build a relationship with those the other side of the footlights.
As Muddles, Andrew Fleming drives the show with his many impressions. Acting as a quasi-narrator, Muddles has more stage time than anyone else and even pops up in the dwarfs' cottage before Snow White.
Bad Girls actress Nicole Faraday is suitably vile as Queen Morgiana. Her wicked laugh sends chills down children's spines and it would not surprise this reviewer if she was to be snapped up by one of the larger commercial companies next year. In pantomime, experience is everything and having played the role numerous times before, Faraday commands the stage and truly embodies her character.
Unfortunately, apart from Fleming and Faraday, the show is rather disappointing. In the title role of Snow White, EastEnders actress Madeline Duggan constantly looks as though she'd rather be somewhere else. Her face does not convey any emotion and there is no chemistry whatsoever between her and the Prince, played by Danny Rhodes.
If Snow White has a personality vacuum, then her Prince has a programmed personality that takes cliché to another level. Rhodes cringingly overplays the part, resulting in a one dimensional, arrogant and annoying Prince. Not even the Wicked Queen would fall for this fool.
However, when it comes to singing Duggan and Rhodes have strong and pleasant voices, but this is not enough to carry their unimpressive performances. In fact, nearly all of the cast sing well, but it is a great shame that after last year's actor/musicians, this year's music should come from the speakers, having been recorded on backing tracks.
The only cast member without the voice of an angel is Wayne Gordon (Doom from Gladiators) as Herman the Henchman. Back in the 1990s the Gladiators were the 'in' thing and if a production wanted to have the precursor to the X-Factor, then an athletic bodybuilder had to be employed. But times change, and the reason that Gladiators became virtually extinct from pantomime was that although they perform well on the track, they do not perform well on stage. Delivering dialogue requires different skills to that of duelling or ascending the Travelator and unfortunately Gordon does not 'Breakthrough and Conquer' like the televised Gladiator event.
The key to a pantomime's success lies in the casting. After all, actors are one of theatre's key components and it is in them whom the audience invest. It seems that New World Productions have forgotten this and cast a show that looks good on the poster, but not on the stage.
Even the Babes don't seem to be enjoying themselves and rather than relish the opportunity to perform on a London stage, they look as dull and bored as the faded set surrounding them.
Producers should trumpet their shows loud and proud, but claiming that this is "London's No.1 Panto", as the bill for Snow White does, is extremely misguided.
Last year The Shaw's artistic director John-Jackson Almond was quoted as saying that he was "looking for local writers and potential writers that would like to explore their creative and factual writing in a professional theatre with a professional writer and director." Another of Almond's goals was to start producing in-house and the pantomime would provide the perfect opportunity to do this and regain that sense of community he longs for his theatre to have. If it worked for the Hackney Empire, then it can work for The Shaw and perhaps the theatre would finally be able to make a positive contribution to London's theatrical landscape?
Playing until 3rd January 2011.
Reviewer: Simon Sladen