Snow White and the Seven Dwarfs

Grand Opera House, York
(2005)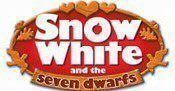 We all expect panto scripts to be full of ghastly gags, putrid puns and risible romance, so that can't be why New Pantomime Productions denied the author a mention in the programme. The designer is also uncredited - perhaps they both fell foul of the wicked Queen Malevola? But whoever these shadowy figures are, they've come up with a good-looking panto filled to the brim with audience participation. If you don't go home with a sore throat and/or ruptured eardrums you simply didn't enter into the spirit of things.
Snow White presents an awkward problem for panto producers. The trick is to evoke the atmosphere of the Disney classic without attracting the attention of Uncle Walt's lawyers, provide a part for the traditional Dame and Fairy, and work in as many pop songs and Christmas standards as possible with a cheerful disregard for narrative convention and common sense. This production succeeds on all counts and offers a bonus - two singing Nolans for the price of one!
Panto veteran Anne Nolan is obviously having a whale of a time as our heroine's wicked stepmother Queen Malevola. A woman of such phenomenal lung power has no trouble dealing with the storm of booing that greets her every appearance - she simply bellows the audience into submission. Snow White is played by Anne's daughter Amy, who can't match her mum in the decibel stakes but gives a sweetly winsome performance.
It's one of the great mysteries of panto-land that ruthless monarchs are happy to employ cooks with limited culinary skills and no dress sense. Phil Randall's Sarah Spoilit, a full-figured temptress on the lookout for a rich husband, treats us to a non-stop display of startling wigs and even more startling costumes (where are Trinny and Susannah when you really need them?). Sarah's dim but kindly son Muddles, who nurses an unrequited love for Snow White, is played by Aiden J Harvey with enough energy to power the Blackpool illuminations.
This Snow White is the type of panto that wouldn't be complete without a refugee from Neighbours, a children's TV star and a local celeb. Sure enough, the handsome Prince Valentine is played by Mark Raffety (better known as Dr Darcy), the delightfully pert and pretty Fairy Crystal by Danielle Nichols (Children's ITV) and the bluff Huntsman by James Watt (Radio York).
There is no lack of lively dance routines in which local children get an opportunity to display their talents and dress up as various woodland animals. One very little lad in particular captivated the mums and dads in the audience, as was obvious from the murmurs of "Awww!" every time he appeared. I have no idea what his name is but he was undoubtedly one of the stars of the show.
Although Snow White can't hope compete with the production values of its big brother at the Theatre Royal it's a good introduction to panto for younger members of the family. Bring an ample supply of sweeties ("Naughty, naughty!") and see it before Sarah the cook is arrested by the Fashion Police.
Last performance on 8th January 2006
Reviewer: J. D. Atkinson