Soap Opera
Jamie Alexander Wilson
MBP Theatrical in association with The Woodville
Ashcroft Theatre, Fairfield Halls, Croydon
–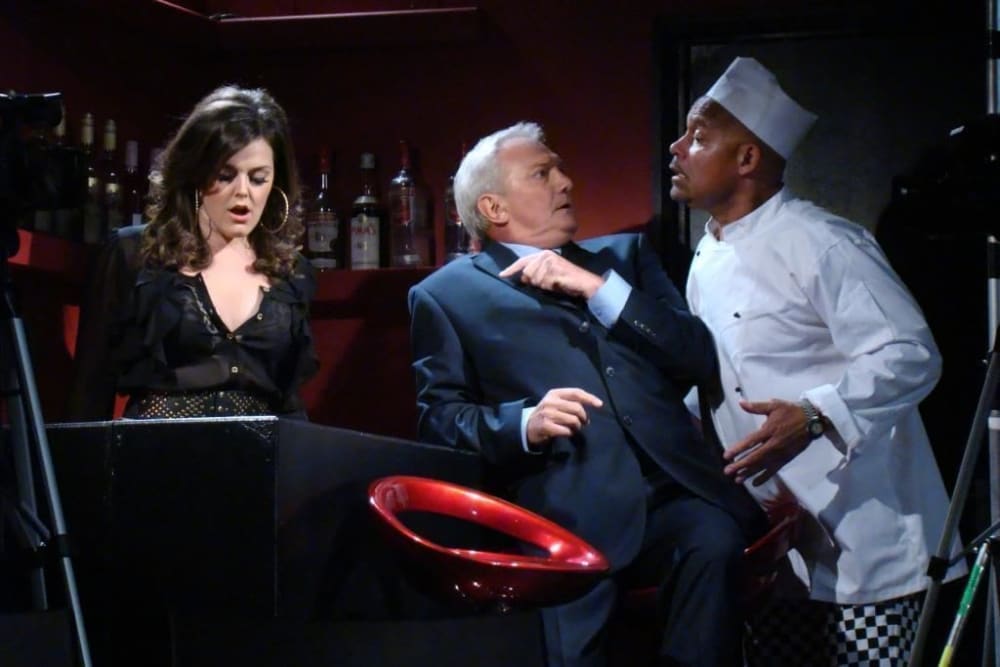 Entering the Ashcroft Theatre, you may be forgiven for thinking you've stumbled across the location of a new television studio. Large plasma screens line the stage, cameras are scattered on set and a lighting bar protrudes from the fly floor. Marrying together the genres of television and theatre, Soap Opera presents an evening of entertainment which takes its audience from the comfort of their sofa to the stalls.
Things are not going well for long-running soap Hollyenders Street. Ratings have plummeted and a new executive producer has been brought in to spice things up in time for the show's twentieth anniversary. The bad news is, however, that if the show is to survive another twenty years, one of its characters must be axed. Fearing for their characters' lives as well as their livelihoods, the actors take inspiration from the executive producer's new storyline and begin to make sinister plans of their own...
Soap Opera is the first national tour from MBP Theatrical and producer, writer and director Jamie Alexander Wilson has managed to assemble a fine fleet of performers, most of whom constitute TV soap legends. Leslie Grantham (EastEnders), Graham Cole (The Bill), Louis Emerick (Brookside) and Michelle Gayle (EastEnders) each represent their respective soaps and the piece playfully challenges audiences expectations by part-ghosting the actors' onscreen presence whilst juxtapostioning it with a contrasting character trait. When Leslie Grantham's Hollyenders hardman is revealed as more Dandy than Dirty Den a whole new area of material opens up and the audience's level of enjoyment is increased as parody comes into play.
Parody is used to great effect throughout, working especially well due to the well-known conventions of the nation's favourite soaps. Crazy plots, big costumes, outlandish personalities and accents abound, but with TV screens dotted about the stage to 'broadcast' the pre-recorded Hollyenders episodes, it is a shame that the extreme facial gurning of the cast to communicate faux high-octane emotion isn't beamed live during the recording sequences as this would utilise film's strength of close-up as well as reinforce the notion that the audience are part-home, part-studio audience.
An unnecessary and lengthy Hollyenders Street episode gets the piece off to a rather sluggish start, setting the pace for the first third of Act One as myriad characters and back-stories are introduced. Some of this plot-mapping could be streamlined as repetition frequently occurs and the information exchange works best when seen through short Hollyenders Street snippets or snatched conversations on set. Not only does this increase the pace, but it also adds to the mystery and intrigue required in such a whodunit.
One of the script's biggest problems is its structure. Whereas murder mysteries are often instigated by a murder, in Soap Opera the villainous act constitutes the end of act one. Granted, the first act has the interjection of the new executive producer and two new Hollyenders Street characters, but Wilson's writing seems to amble about, trying to flesh out simple characters that work best here in their exaggerated, stereotype form, such as Kev Orkian's Kenneth Orlando who steals the show with his high campery and subsequent breakdown.
Act two fairs much better with a strong narrative thrust stemming from the introduction of Detective Bill Emmerside, a life-long Hollyenders Street viewer who finds it difficult to swap fan for forensics. Here is where the piece really takes off; however, as the first act has exposed the suspects and presented the acts of 'murder' onstage, the audience is not kept guessing as much as they might be. A clever twist in the tale does exist, but this aspect requires more work to afford it the dramatic impact it deserves and other important factors, such as a writers' strike, unfortunately become lost in amongst the piece's many subplots.
Part Agatha Christie, part Noises Off, Soap Opera provides audiences with a fictional glimpse behind the lens. The play still requires some development, but MBP Theatrical should be commended for launching and touring new work when so many other companies are currently playing it safe.
Reviewer: Simon Sladen