Solaris and I Can't Handle Me!
Fidget Feet
Customs House, South Shields
(2004)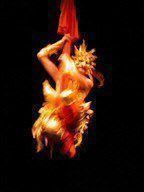 British theatre is text-based. On the continent there is an equally long and strong tradition of physical theatre, from the poor theatre of Grotowski in Poland to the Lecoq School in Paris, from Marcel Marceau to Pina Bausch in Germany and Wim Vanderkybus in Belgium and Holland, the latter two showing some of the points where theatre and dance merge. Over the last fifteen years or so there has been an increased interest in this country in physical or, as its practitioners prefer, total theatre.
Along with this more generalised growth in interest has been a move to make use of non-theatrical and non-dance skills in a theatre context. Foremost amongst these have been circus and, in particular, aerialist skills. Possibly much of this interest in the non-total theatre world arose from the aerial show at the Millennium Dome: who knows?
Irish company Fidget Feet (Chantal Daly and Jym Darling) are aerialists and their two one-person shows, Solaris (Darling) and I Can't Handle Me! (Daly), are firmly in this field, although they do make use of dance, storytelling, music, film, visual art to create what they call "one integrated performance experience."
Of the two, I Can't Handle Me! - the story of a woman's journey through her life - is the more effective and the more subtle. The "plot" (for want of a better word) is more complex; a wider variety of skills and art forms is used, and there is more variation of pace. All of which leads to a more layered piece which stimulates a wider range of responses in the audience.
By comparison, Solaris works in a straight line and is much more in-yer-face. It is a single-idea piece and began to feel a little repetitive, even though it was just half an hour long. I have to say (and it was possibly the costume that did it) that I was irresistibly reminded of Leigh Bowery! (Take a look at the photo above: you'll see what I mean.)
Both performers are impressively skilled (and strong) aerialists and it is here that their strengths lie. There was little in the rest of their performances (except for a little origami in Handle!) which we haven't seen before - and why did both feel the need to include a Hop Hop sequence? In Solaris it was merely a continuation of what had gone before in terms of the words, but it did feel out of place in Handle.
There was much talk amongst the audience in the bar afterwards about "getting the symbolism" in Handle, but this surely misses the point? If the piece is no more than a set of symbols which have to be interpreted, what is the difference between it and a living crossword puzzle? If all it demands is a kind of problem-solving intellectual exercise, then I, for one, am tempted not to bother. But such comments do show how unused to total theatre we are in the UK. We try to interpret it verbally, but if what is being performed could be said verbally, then there was no need for it to be physical in the first place.
This kind of theatre demands a different kind of response from its audience that what is required by Shakespeare or Ayckbourn: we need to avoid the temptation to treat it as a jagsaw puzzle or crossword and learn to react more viscerally. An interesting evening.
Reviewer: Peter Lathan