Sold
Suzie Miller
Theatre503
(2011)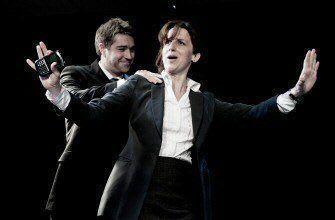 With temperatures currently soaring to over 30°C in some parts of the country, it seems apt that Suzie Miller's Sold begins with a staff meeting in which Estate Agent manager Gary says 'Welcome to summer.' Estate Agents, often voted the most hated of professions, provide the subject for Miller's play which depicts office and home life to varying success.
Estate Agents' offices are full of colourful characters all vying to be top dog and get that all-important sale. Telephones ring, showings are booked and contracts signed, but in and amongst this hustle and bustle live real people affected by the profession and its many demands.
One time New Philosopher editor Anthony is putting in too many hours and his marriage is suffering. He hardly ever sees his four year old daughter. Simple Stan is looking for love, but online dating has disastrous consequences, and hard-line Hillary gets what's coming to her when she conforms to the mantra "sex sells".
Miller's text is extremely witty, but laughs do not come thick and fast in this production. Writing in a style not too far removed from Greenwing, Miller's characters are quirky, yet fully believable. It is unfortunate, then, that director Natalie Ibu's approach seems to resist playing the text for laughs and refrains from extracting the inherent comedy present in Miller's use of language.
There are times when comedy comes to the fore, but more often than not the humour falls flat and it is as if Ibu wants to draw the audience's attention away from the characters' quirkiness and focus primarily upon their human foibles. Stan, played by Jamie de Courcey, has some wonderful lines as the awkward office loser. He describes a gift purchased for Anthony's daughter as a "little doll. You put it in your pocket, called Polly Pocket." The repetition and inability to communicate efficiently has great comic potential and contributes towards the character's awkward nature, but this, like many other gems, gets lost in the production's subtle direction.
At various times throughout the play the characters soliloquise about their sorry lives. The strength of this technique lies in the juxtapositioning of these moments with those of the office. Suddenly the public becomes private and the soliloquies provide the piece with a theatrical sense of chiaroscuro, demonstrating that the estate agents in Sold are ultimately vulnerable people who fall to pieces when stripped bare of their professional patter. The-dog-eat dog environment of the Estate Agents may be tough, but real life is even tougher.
Stellar acting is provided by Kellie Shirley as Mandy, the new apprentice channelling Lauren, Amy and co from The Only Way Is Essex. Shirley pitches her character at just the right level of caricature, remaining believable, but eccentric, whilst sending both stereotype and profession up. When Mandy reveals her epiphanous moment towards the end of the play in soliloquy, it has all the more impact due to the stark contrast achieved with her behaviour in the office. Although the other performers act well, they do not push their characters far enough and thus their revelatory moments are not as strong and empathic as they could be.
Garance Marneur's set successfully conjures up the ailing office, complete with broken ceiling tiles and strip lighting, but lacks Granger & Co's overt branding for which Estate Agents are well known. Tom Gibbons' sound design, along with Richard Howell's lighting, helps to segue between the short scenes, which are well executed by the cast as they reposition a fleet of swivel chairs complete with mini desks, laptops and office clutter. But although the transitions are swift, the play drags as it adventurously affords each character a number of soliloquies and delves into their individual personal lives. Whilst this creates an entire cast of well rounded characters, it distracts attention away from the play's main narrative thrust centred around the life of reluctant Granger & Co employee Anthony and leaves the play lacking focus.
Sold premiered in Australia and, according to promotional material, is "based on interviews with real estate professionals." Each country has their own set of cultural values, practices and personas and perhaps herein lies Sold's problem when presented in the UK. Some cultural translation has occurred, but the production ultimately leaves one questioning just how different the end result would have been had British employees of the industry been interviewed and entirely new material written. With English and Welsh accents and references to the A3 introduced for the UK market, Sold attempts to be British, but can't seem to shake its Australian progenitor's roots no matter how hard it tries.
Playing until 14th May 2011
Reviewer: Simon Sladen