Some Enchanted Evening
Richard Rogers and Oscar Hammerstein II
Hope Mill Theatre
–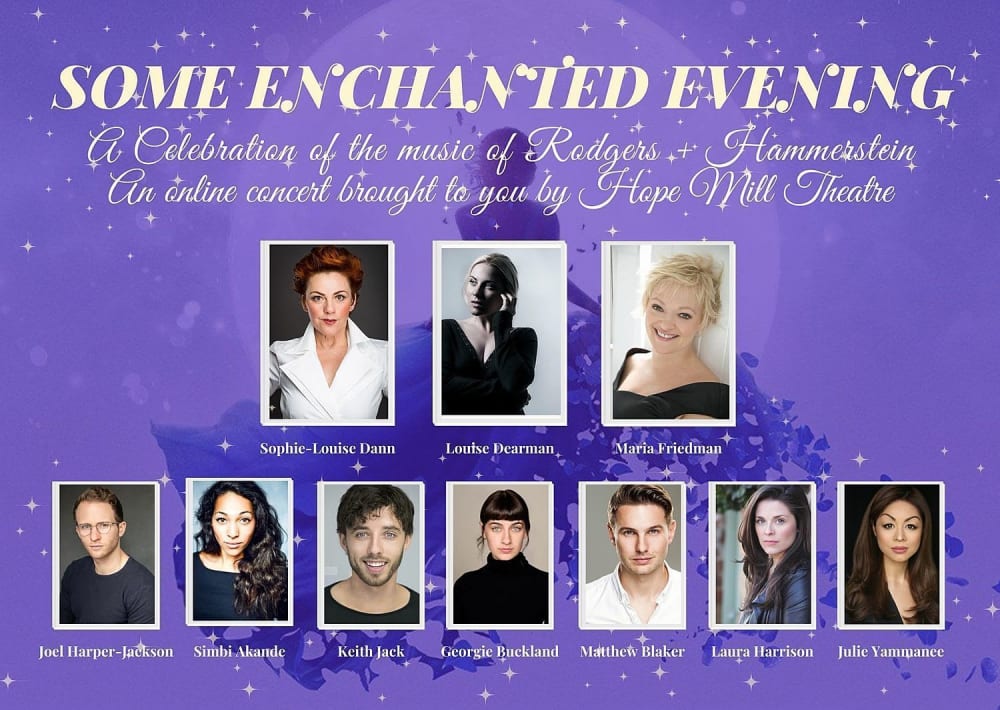 Hope Mill Theatre closed just before the press night of Zorro the Musical, which had opened the week before, but its big coup of the year was to be the UK theatrical première of the Broadway version of Rodgers and Hammerstein's Cinderella, originally written for TV and broadcast in the US in 1957.
Just two weeks before that show was due to open, the theatre has released on YouTube a celebration of one of the most famous partnerships in musical theatre featuring songs recorded at home by some cast members of previous Hope Mill shows and a few other celebrities of the musical world, all linked together as a kind of basic biography of the career of Rodgers and Hammerstein. Much of the linking narration comes from Hope Mill founders William Whelton and Joseph Houston with their champagne flutes and sparkly jackets (and I'm sure Joe didn't have that 'tache the last time I saw him) with a few links from their celebrity guests—the one from Samuel Holmes is the most entertaining, but sadly he doesn't sing.
The shows featured are therefore chronological in general, starting with a number from Oklahoma with Laura Harrison, who "Cain't Say No", then Joel Harper-Jackson contemplating "If I Loved You" from Carousel, Sophie-Louise Dann concludes "The Gentleman is a Dope" from Allegro, Keith Jack sings of "Some Enchanted Evening" from South Pacific, Maria Friedman reprises her role as Anna with a selection from The King and I followed by another selection from Cinderella from three of the cast who should have performed them at Hope Mill—Georgie Buckland (Cinderella), Matthew Blaker (Prince Topher) and Julie Yammanee (Marie and Fairy Godmother)—Simbi Akande sings "Love Look Away" from Flower Drum Song and Louise Dearman serenades us with "Edelweiss" from The Sound of Music.
The audience is then encouraged to join in with a singalong version of "Do Re Me" from The Sound of Music, for which different members of the cast take different lines and it is all edited together, not exactly seamlessly but well enough. After a series of telethon-style appeals for donations from various celebrities and members of the production team, there is another edited-together group number which is, of course, "You'll Never Walk Alone", inset with images from recent news items, then the mood is lifted considerably with by far the cleverest, technically, part of the whole film with a finale from a whole group of singers and musicians.
Between numbers, there are tributes from, amongst others, Russell T Davies, Denise Welch, Julie Hesmondhalgh, Hayley Tamaddon, Natalie Gavin, Harriet Thorpe, Tracie Bennett, Sally Dynevor and Joe McElderry.
The sound quality on the songs, which is the important part, is really not bad at all considering these were recorded in people's houses—the amount of dullness from the acoustic of a small room with bare plaster walls varies depending on how close the singer and the backing music are to the mic, but all are perfectly clear and intelligible. I can't say I'm keen on the wedding video-style theme that puts a bubbly purple background to almost everything, and some may think the appeals for money go on a bit, but you do get to see inside the homes of some musical theatre stars, which I'm sure BTG's Sandra Giorgetti would appreciate if her latest feature is anything to go by.
Hope Mill is a rare jewel of regional theatre, creating new professional productions of musicals that aren't done to death if they are done at all, which certainly deserves to receive the support it needs to survive past the lockdown. In fact, the names attached to this short (an hour and six minutes) film are an indication of the esteem to which this tiny theatre is held within the industry.
While there are a lot of appeals for money, there is also a great selection of both well-known and lesser-known songs from the back-catalogue of the duo who dominated musical theatre in the mid-twentieth century performed by a talented bunch of singers, so it's definitely worth spending an hour in their company if you're a musical theatre fan.
Reviewer: David Chadderton