Some Girl(s)
Neil LaBute
Buckland Theatre Company
Park Theatre
–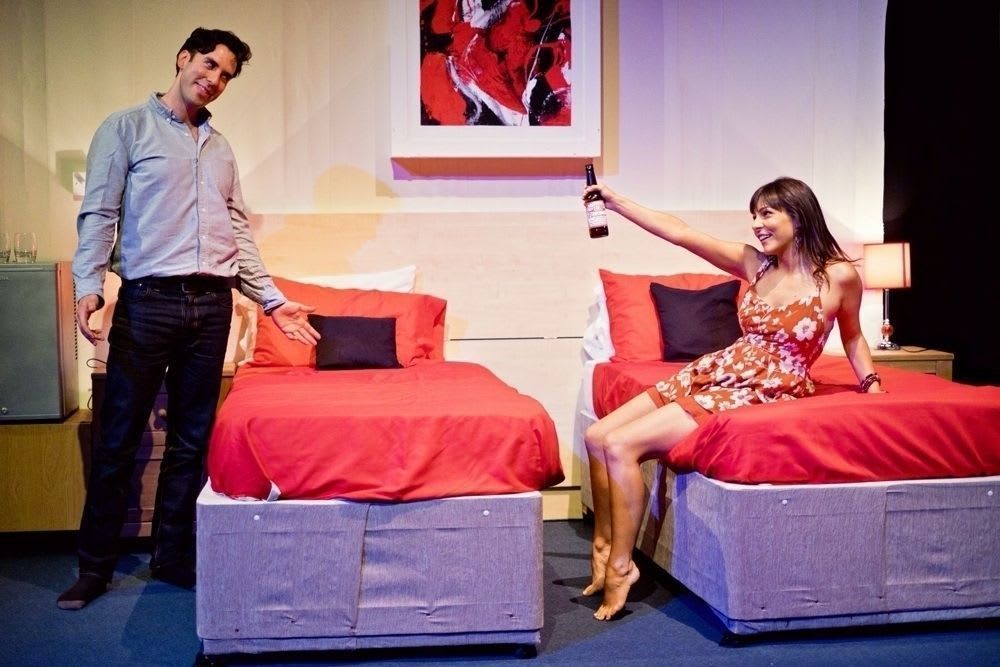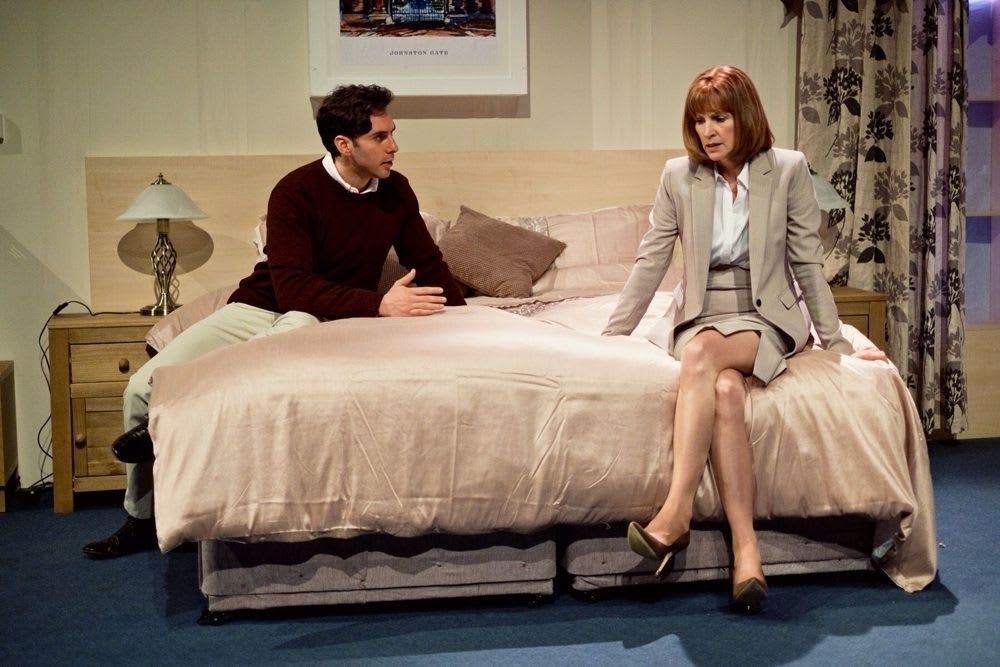 Some men can be utterly charming. Their easy conversation and engaging smiles can be attractive and disarming.
Guy, the central character played by Charles Dorfman in Neil LaBute's play Some Girl(s), seems to be one of these men.
We meet him warmly welcoming to his hotel room in Seattle Sam (Elly Condron), a former partner. He is about to get married and this he claims has prompted him to speak with former women partners he may have hurt in the past.
Sam is understandably wary and awkward given they broke up fifteen years earlier.
They quickly find they have different perspectives on what happened. He recalls the break-up as something mutual. She insists it was he who made the decision, walking out without an explanation.
He doesn't help the mood any by explaining that his reason for ending the relationship was his conviction that life with Sam would have cramped his ambitions and limited what he was likely to achieve. He does offer her a copy of his published story to illustrate what a success he has become, and seems a little surprised she hasn't read it.
This sense of his own self importance runs through his encounters with a further three women. Each is treated to Guy's supposed concern to make amends, only to be given fresh reasons for being unhappy with his contact.
Even when he explains tearfully to Bobbi (Carley Stenson) that despite breaking up with her he has always been in love with her and has spent the rest of his life looking for someone in her image, it is little more than a performance.
But the women are not a passive audience to his insensitive behaviour. Sam sarcastically says to Guy that it is "funny you know so much about women now" and before leaving slaps him across the face.
Tyler (Roxanne Pallett) tells him of having, years before, overheard his thoughtless conversations on the 'phone to another woman.
Bobbi responds to his claim that he "meant well" by saying, "guys always mean well just before they fuck someone. People get hurt."
Both Lindsay (Carolyn Backhouse) and Bobbi manage to cut below the surface of his superficial charm to reveal how ridiculous and unpleasant his behaviour really is.
Women are only important to Guy while they admire his performance. They are special because they are his audience. He refers to other women including the woman he is to marry as "some girl(s)".
The final minutes of the play show just how self-centred and exploitative Guy's performance can be. Caught out, Guy simply admits, "sometimes I use the people around me to make myself a career. That makes me an American."
The play is often amusing, the characters are believable and the performances consistently good.
Roxanne Pallett is especially striking in a sensitive, emotionally shaded performance as Tyler whose easy going sexuality is informed by a perceptive compassion.
Carolyn Backhouse is also distinctive as the no-nonsense, quick-talking teacher Lindsay who is not going to be fooled by Guy's puppy dog charm.
Neil LaBute's sharp enjoyable exposé of Guy's behaviour reminds us of the way the qualities of gentleness, charm and a willingness to display intense emotional feelings can be used as forms of unfair control and shouldn't. It sides with the women who are too often the victims but its implications apply to all our relationships.
There is an audio interview with Roxanne Pallett in the BTG podcast.
Reviewer: Keith Mckenna