Someone Who'll Watch Over Me
Frank McGuinness
Library Theatre, Manchester
(2007)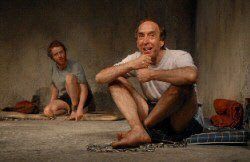 Chris Honer's new production at the Library Theatre is Frank McGuinness's play of hostages in the Middle East, Someone Who'll Watch Over Me, which draws on events in Lebanon in the 1980s such as the kidnap of Belfast teacher Brian Keenan but which is still, sadly, current today.
An Irish journalist and an American are being held hostage by Islamic militants in a cell somewhere in Beirut. They are joined before long by an English teacher, snatched from the street when he was going to the market for some fruit. The three men are given food and water but are chained to the wall by the ankle and are accompanied whenever they go to the toilet. As the days, weeks and months pass by, they argue, laugh, tell stories and comfort one another as they dream of their homes and families.
The situation, stretched as it is over more than two and a half hours, could easily be a dreary and depressing night at the theatre, but this is anything but. The play is extremely funny for a large part of the time, and also manages to be heartwarming, sad, frustrating and ultimately uplifting. There is some wonderful writing in this play, which manages to keep the attention without really having any story so that the long hour and a half first act seems to pass very quickly.
The Library has assembled a first-rate cast to perform the play. Alun Raglan plays Adam, the American peacemaker in the cell, who seems calm and cool most of the time but sometimes his demons escape, especially when he is convinced he will be the first to die. Refined English tutor Michael is played perfectly by Michael Mears, who manages to get across the pomposity and the humanity of the character convincingly. But without taking anything away from the superb performances of these two actors Damian Kearney's performance as Irishman Edward really stands out as something special. He plays the joker character with perfect comic timing while still getting across clearly the underlying frustration, boredom, sadness and terror behind the character, and his deep affection for his fellow captives.
The play takes place entirely in a concrete cell just like we see on TV news programmes, recreated very convincingly by designer Judith Croft and lit perfectly by Nick Ritchings.
The Library has really excelled itself with this production which is an absolutely riveting piece of theatre with very impressive performances from everyone in the cast.
Running until 16th June
Reviewer: David Chadderton