Someone Who'll Watch Over Me
Frank McGuinness
Theatre by the Lake, Keswick
–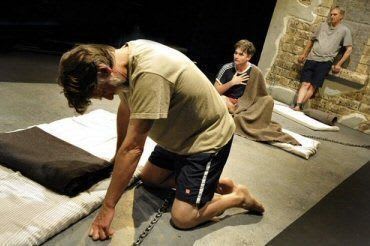 Frank McGuinness' Someone Who'll Watch Over Me is about passing time, but this is no Waiting For Godot; this is, instead, a naturalistic drama about three kidnapped men chained up in a cellar somewhere in the Middle East based on the experiences of Brian Keenan who was kidnapped in Beirut in 1986 and held hostage for more than four years.
Irish journalist Edward is doing his best to insult and irritate American doctor Adam to pass the time during their months of incarceration together while Adam obsessively exercises and tries to get Edward to do the same. The group's dynamic changes substantially when they are joined by a third captive: English literature lecturer Michael who was captured in the market and is very confused about his situation. With only a Bible and a Qur'an to read, the men both support and attack one another, indulge in mutual fantasies and stories and generally bond to keep one another sane and active.
This really is a play in which hardly anything happens, and so it is a testament to the skill of McGuinness' writing that there is so much humour and tension in this powerful piece of theatre. Director Mary Papadima has a very strong cast to work with here, with Jack Power as mischievous troublemaker Edward and Matthew Vaughan as peacemaker Adam, but Peter Macqueen gives an especially moving performance as Michael and has noticeably more courage with sustaining the tense dramatic pauses than the other two to great effect.
It may seem like a grim premise for an evening's entertainment but in reality this play is anything but, as there are lots of strong laughs, great characters and moving stories all nicely paced in this production for which the intimate environment of the studio adds a great deal to the atmosphere. By the end, two have left the makeshift prison for different reasons, but it is hard to know whether to sympathise most with those who have left or those who have been left behind.
Reviewer: David Chadderton