Somersaults
Iain Finlay Macleod
National Theatre of Scotland
Traverse Theatre, Edinburgh
(2011)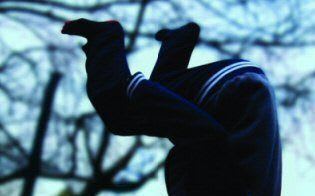 Both a story and a debate, this piece of theatre looks at what a language means to a person, especially when that language is dying. It is ostensibly about one man and the significance of Scottich Gaelic in his life. However Somersaults is more significant than just a celebration of the language of the Gaels.
It certainly has resonances with other dying languages around the world, but what is perhaps more interesting is the way modern life is dissected. James/Seumas (Tony Kearney/Tònaidh Kearney) lives in London, he has the pad, the mod cons, the girl, but the play sees him gradually lose everything while simultaneuously losing his bilingual tongue and being reduced to just plain English.
The set is deceptive, what at first appears as a thick pile carpet and drapes is in fact sand and sackcloth. The sackcloth strips are ripped down, destroying the box they form and, perhaps rather obtusely, symbolising James' life being stripped of its mystery.
If the symbolism was rather overt the production balanced this out with a very honestly portrayed chat between the cast as they sat in the audience for the informal ending to the piece. It feels quite similar to The Author though in my view this is more effective as it is more to the point and focuses on a more worthwhile topic.
Barnaby Power, the only English cast member, comes across as particularly true; both onstage as Mark and sat among the audience he had a great directness and confident manner. Kearney was rather bland in the lead and it was difficult to empathise with him.
James' father Sandy/Sandaidh (Angus Peter Campbell/Aonghas Pàdraig Caimbeul) said very little in English, but despite my complete lack of Gaelic, I still found his performance very watchable and at times moving. Caimbeul is a high profile Gaelic poet so it is perhaps not surprising that he manages to convey so much and make this language sound so beautiful.
Without the debate at the end it would be a rather slight piece and also a bit one-sided and insular; the debate allows the audience in and also answers a few questions that Somersaults provokes.
Until Saturday 19th March
Reviewer: Seth Ewin