Something Better than Nothing
Devised by the company
Small Fires Theatre Company
Etcetera Theatre, Camden
(2006)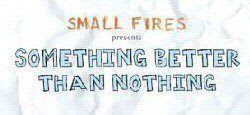 With a title like Something Better Than Nothing, we expect to at least get, 'something' of a performance. But not in this play about four uninspiring characters, played by Ila Roskilly, Faye Wollard, Luke Todd and Mark Bothick, as we watch them while they wait for 'the right opportunity, the right date, or, quite simply, the right time,' all of which is lacking emotion. The "agonies" we are told the characters experience in having to wait are hardly worthy of a production. The story lacks any dramatic action or genuine conflict within the characters themselves or with the other characters in the play.
We are told that the production is company devised, which always makes me nervous, as it takes a disciplined performer to be objective, but is this production also company directed? If so, that would explain the very random stringing together of scenes. Personally, I support practitoners attempting to create their own opportunities, but Something Better Than Nothing is a good example of how important it is to work closely with a dramaturge.
There are moments of attempted stylized direction, but they are so sparse that they only ever look like G.C.S.E drama skills. As a whole the performance feels like a collection of short sketches that have been poorly put together. However, the concept of waiting is universally identifiable and could, with the right director and writer, be developed further.
Reviewer: Lennie Varvarides