Sommer 14 - A Dance of Death
Rolf Hochhuth
Cerberus Theatre with Finborough Theatre
Finborough Theatre
–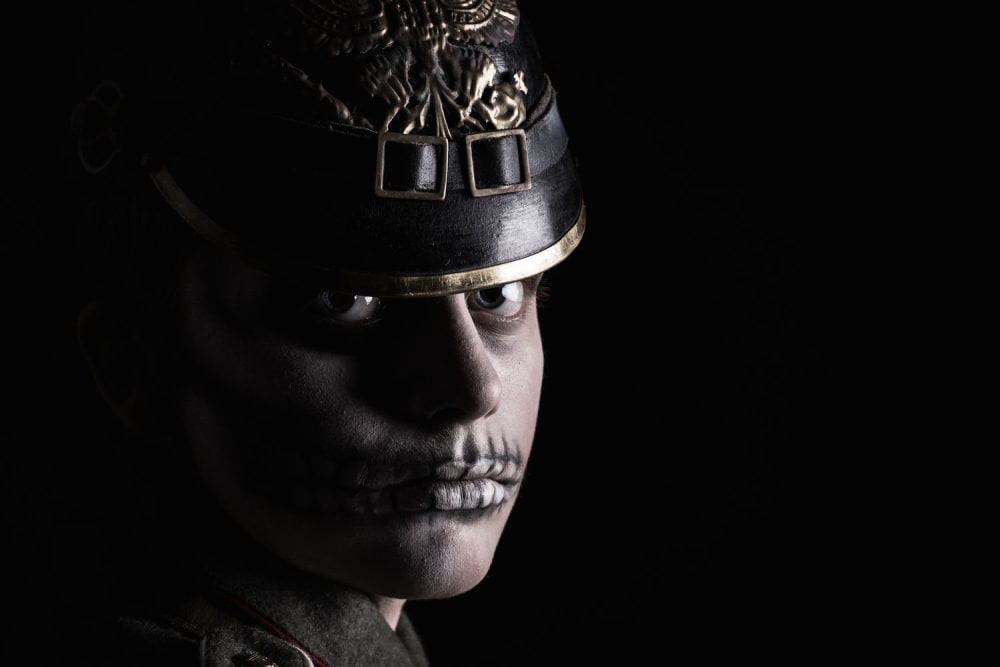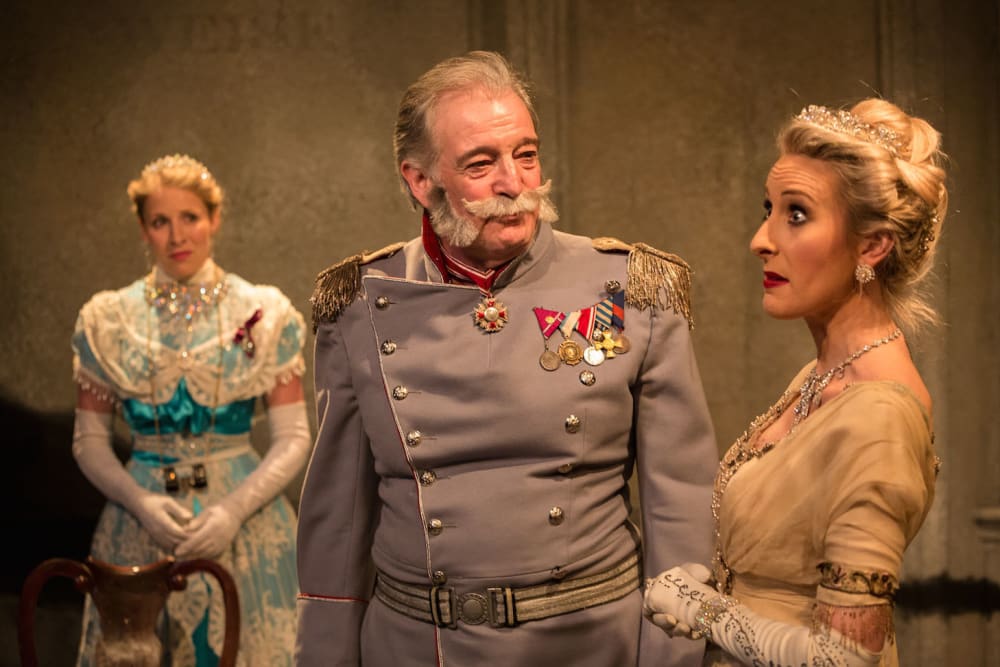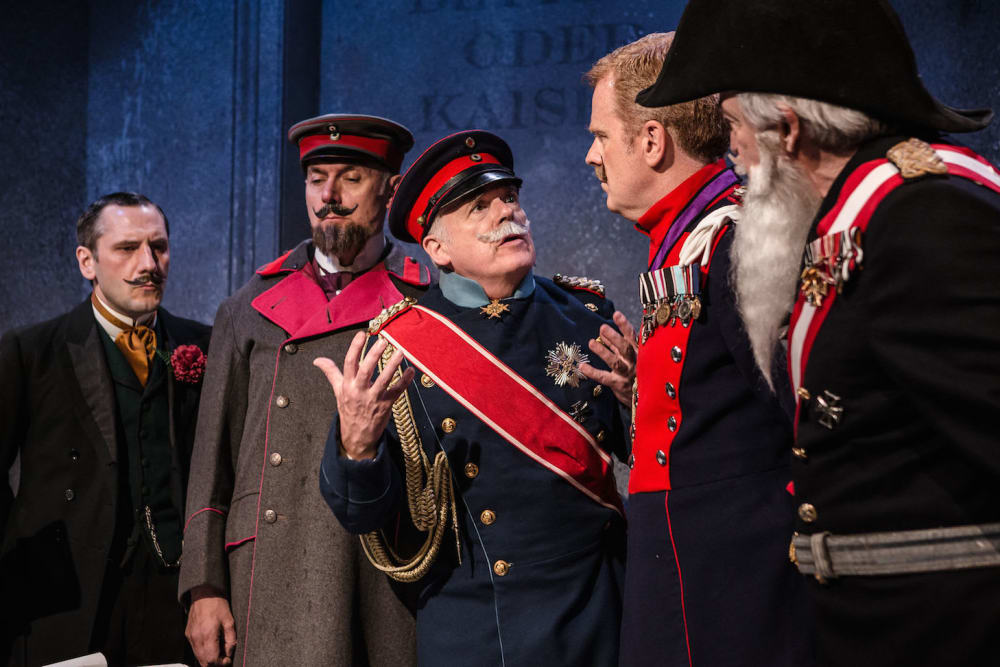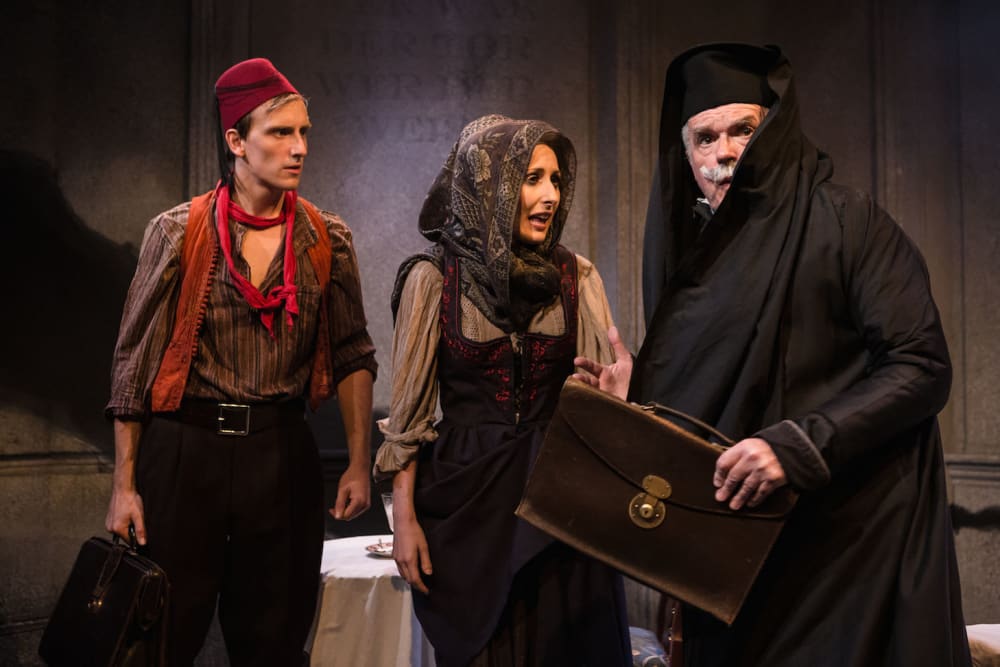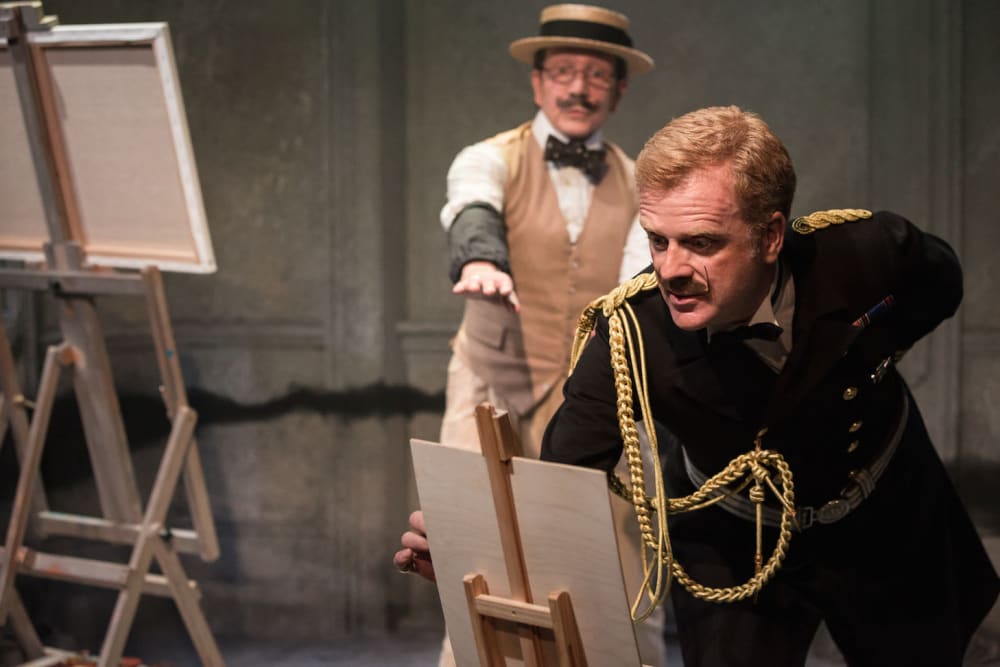 This production, part of the Finborough's The Great War 100 series, is the English language premier of controversial playwright Hochhuth's latest play, which had its world premier at the Berliner Ensemble only 4 days earlier. It is his take on events leading up to the outbreak of the First World War from 1909 to 1914 and looking forward that indicts the politicians and generals who sent so many to the slaughter and questions the role of industrialists and scientists.
It is a fascinating exposition of little known material that feels like a verbatim drama dosed with surrealism and presented in a Brechtian manner with the figure of Death delivering songs that comment to the audience between the episodes.
Part documentary, part invention, Hochhuth points a finger at particular individuals and Winston Churchill, whom in Soldiers he accused of ordering the plane crash that killed General Sikorski, is once again indicted: here for planning the Lusitania sinking as a strategy to get the US into the war.
Death, disguising himself as dead soldier, acts as a chorus to this history. Dean Bray, directly addressing the audience, plays him with the ironic vitality of Cabaret's MC. Between episodes he gives a Brechtian commentary that often breaks into song.
The first scene he introduces is a piece of private history, not so different from modern hacking scandals, with an editor about to use stolen compromising letters to unset a minister who is anti-war. It is typical of the way that Hochhuth's play uncovers the machinations that shape history, the first in a series of behind-the-scenes encounters that feature kings and kaisers, ministers and magnates, scientists and generals, and just occasionally those who fall victim to their schemes as the action moves from palace to passenger liner, Austrian opera house to Washington art gallery, ethical argument in a laboratory to Bosnian plotters apprehensive in Sarajevo.
Piece by piece Hochhuth assembles the disparate evidence of all those acts that those in control exploited in their determination to go to war and reorder Europe to their own advantage, a fascinating unfolding that gives us privileged access to the reality of history.
It is Hochhuth's reality of course, his invention, but in the published version of the text he inserts some of the sources on which he has drawn and other background information, though these are not part of the performance.
His Death hates war because mass killing denies him the chance to administer his personal service, to give full attention to each individual dying. Death sees forward and backward, from the centaur Nessus killing bullyboy Hercules to Auschwitz and Hiroshima.
Some of that breadth of view is lost in this production. Director Christopher Loscher has made considerable cuts to trim a long play down to a more manageable length of a little over two hours plus interval. Whole scenes in France and Russia have been omitted, as have all except a few lines of a verse prologue in a kind of no-man's-land: the Island of the Dead, where Death converses with his centaur and Cretan inventor Daedalus. Would its inclusion make much difference?
Loscher's solution for introducing Death still makes him a kind of arbiter but the loss of Daedalus and some other cuts reduce the emphasis Hochhuth places on the role of scientists and arms manufacturers in perpetuating warfare. Here the concentration is on the political leaders seen in private close-up and this cast's performances are a reminder that these are real people, not cyphers.
Particularly effective is Tim Faulkner's short-tempered Kaiser, painting watercolours alongside art professor Stöwer (David Meyer) painting in oils, as he talks to his ministers, then suddenly rising in fury. Peter Cadden is a gentle Edward VII getting his mistress Alice Keppel (Kirby Hughes) to tactfully ensure that he can talk alone with Edmund Dehn's Emperor Franz Joseph. There is Winston Churchill (Nick Danan) on the Lusitania with his mother (Andrea Hart) having already give orders for her to be secretly equipped with guns.
From Admiral Tirpitz and General Moltke to Sarah-Jane Butler as a drowned victim of the Lusitania sinking (the Admiralty ordered one ship not to pick up survivors, though there is no proof that was deliberately to increase the American dead) or the unbearably difficult situation of the Habers (scientists working on biological weapons), these are all excellent performances and Bray's Death, slipping in and out of scenes as supernumerary as well as the critical voice of reason, is a brave performance in a role that is a gift to any actor.
Mike Lee's design, turning the theatre's walls and windows in grey mottled stone with carved texts in German with atmospheric projections of wire and advancing soldiers, creates each scene with minimal furniture and detailed costume. Lighting by Rob Mills and Ermo Frankevyle's sound add to atmosphere. The script suggests that Hochhuth originally envisaged a large-scale production but he is well served by these less elaborate resources.
Congratulations to the Finborough for commissioning this production from Cerberus. It is not often that we get the chance to see important European work so rapidly and this does them great credit.
Reviewer: Howard Loxton