Son of a Preacher Man
Warner Brown
Dusty Touring Ltd
Theatre Royal Plymouth
–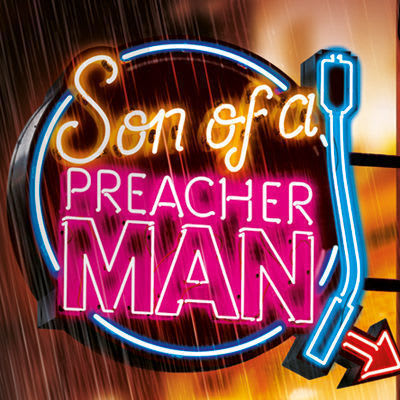 Any "Wishin' & Hopin'" for a fun night of retro Dusty is doomed as Son Of A Preacher Man proves a convoluted, twee disappointment.
Cringeworthy choreography, daft script and one-dimensional characters are shoehorned around the sensational Dusty Springfield hits for an unsatisfactory jukebox musical. But there's fab live music and some stand-out singing.
Warner Brown, clearly a great believer in serendipity, claims he wrote the book and the songs just fell into place. Hmm. And coincidence features heavily in the unlikely tale of unrequited love and pursuit of happiness.
Three pilgrims wend their way to the site of the unlikely-named Preacher Man where, in groovy '60s London, the eponymous owner flogged vinyl and shelled out advice surrounded by record booths, wetlook boots and BakerBoy hats.
Each need closure and are inexplicably drawn to where Kat's gran and Alison's mum spent many an hour about which they waxed lyric for years after and where a 17-year-old wine-fuelled Paul met the man of his ever-after dream.
The record shop has been replaced by The Double Shot coffee house (no tea or fig rolls here) where, phew, the Preacher Man's son (oh what luck, cue a song) Shy Si is still in residence and is persuaded to channel divine intervention to help the trio in their lovelorn quests.
Paul (an awkward Michael Howe whose "Spooky" with Ellie-Jane Goddard is a highlight) wants a final shot at love with the remembered Jack of his youth else he's leaving the country. "I Close My Eyes And Count To Ten" remembers that special moment in time complete with wooden pas de deux and much whimsy. Luckily Jack (a mellifluous Jon Bonner) is recently widowed, happens to be in Conway Hall at exactly the same time as everyone else and has a niece willing to give out his address.
With Debra Stephenson indisposed on press night, Michelle Long ably steps up as Alison making a good fist of a difficult premise: widowed teacher falling for a schoolboy Liam over Romeo and Juliet with "All I See Is You" nicely sung but uncomfortable while Nigel Richards, as Simon, has far too few songs given his superb tones.
Alice Barlow (Coronation Street's Nancy) is strident orphan Kat. Homeless after her gran's death and eviction from their council flat, and in love with the online dating profile of no-show MikeTheKnight (fantasised in "I Only Want To Be With You"), she has a voice to be reckoned with and a lucky escape from the somewhat complex feminist, fortune-hunting, kilt-wearing plumber (seems Brown had a backstory in mind but abandoned it partway through).
A talented Ensemble provides great live music and the Cappuccino Sisters strut their stuff—with Cassiopeia Berkeley-Agyepong particularly sassy—providing light relief to the lumbering storyline as yet more serendipity, slight sibilance and an over-worked Cupid exhausts the tunes, contagious hugs and romantic combinations.
Clumsy, somewhat sleazy choreography from Strictly's Mr Nasty Craig Revel Horwood is disappointing featuring much grinding and table thumping while his direction is wooden; Morgan Large's hinged set is simple and apposite, smoothly moving the action from shop to park, hall to dowdy flat while Brady Mould conducts the tremendous on-stage and pit musicians tightly to do great justice to Dusty's iconic backlist.
Reviewer: Karen Bussell