Song From Far Away
Simon Stephens and Mark Eitzel
Thomas Hopkins, Guy Chapman & HOME
Hampstead Theatre
–

Listing details and ticket info...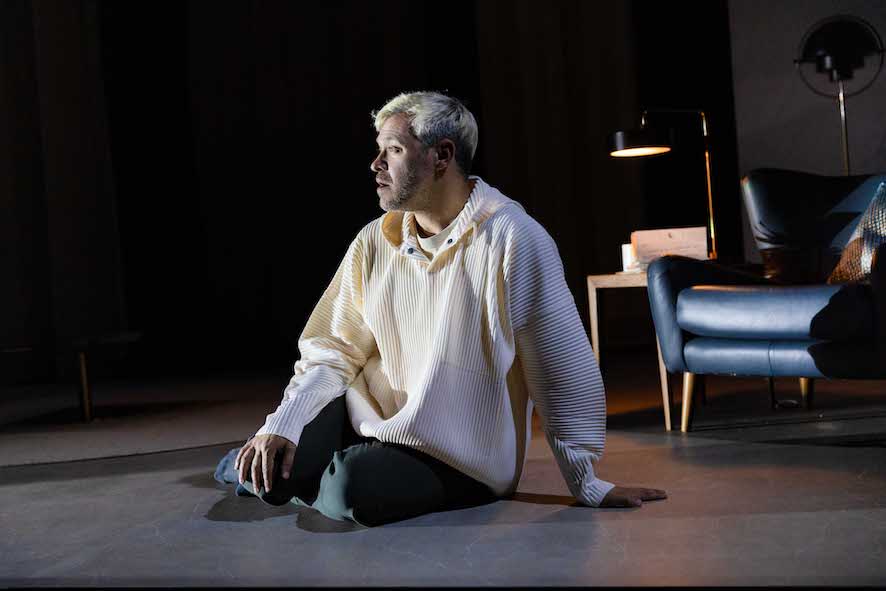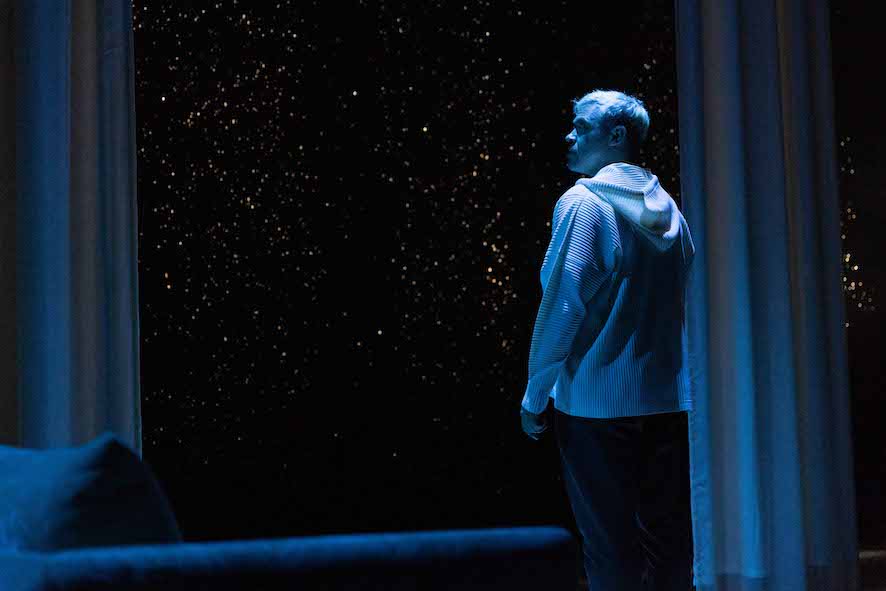 Willem is a Dutch hedge fund banker who is gay and in his early 30s. For the last dozen years, he has lived in New York in a world that is all about making money. When a business meeting is interrupted by a call from his mother in Amsterdam telling him of the death of Pauli, his artistic younger brother, his first reaction is how inconvenient it is, but he is soon on his way to the airport to attend the funeral. Song from Far Away takes us on that journey, sharing his feelings as much about what has happened in his own life as his expression of grief for his brother.
The play takes the form of a series of letters that Willem finds himself writing addressed to now dead Pauli. Director Kirk Jameson's production opens at some point later when Willem is re-reading them, but it soon morphs into direct sharing with the audience.
Ingrid Hu's setting of a neutral room of expensive elegance could be in an international hotel or a New York apartment. It has a ceiling that can change height and curtains that discretely open and close to reveal falling snow or a starry night sky. By subtle changes, it marks time shifts and alters the atmosphere to match Willem's situation.
Will Young, in his first stage role for some years, delivers an intense performance. He is on stage alone for nearly 90 minutes without interval and sustains that intensity totally in character. His Willem is a self-centred materialist with little empathy for others. Young resists the temptation to make him particularly likeable. It is his choice to be apart from his family, he goes to an International hotel in Amsterdam rather than stay at their home. It was he who broke with his Dutch former lover, but was this to avoid the possibility that he might get dumped?
He is disappointed that the guy, now happily re-partnered, now feels little for him. Meeting an attractive South American in a gay bar whom he takes back to his hotel, he is sad that the man will not stay through to morning. His arrogant isolation begins to seem self defence and he does begin to attract sympathy. Perhaps he isn't really the prick that his sister accuses him of being.
There is a gentle wistfulness in the songs that Mark Eitzel has written which occur seamlessly when simple speech proves not enough and Young delivers them beautifully.
What could seem a contrived piece of theatre here gets a staging that seems full of sincerity. It conveys a real sense of loss and of growing self-awareness.
Reviewer: Howard Loxton