Song of the Earth / La Sylphide
Kenneth MacmIllan (choreography)/ August Bournonville (original choreography)
English National Ballet / Royal Danish Theatre
Palace Theatre, Manchester
–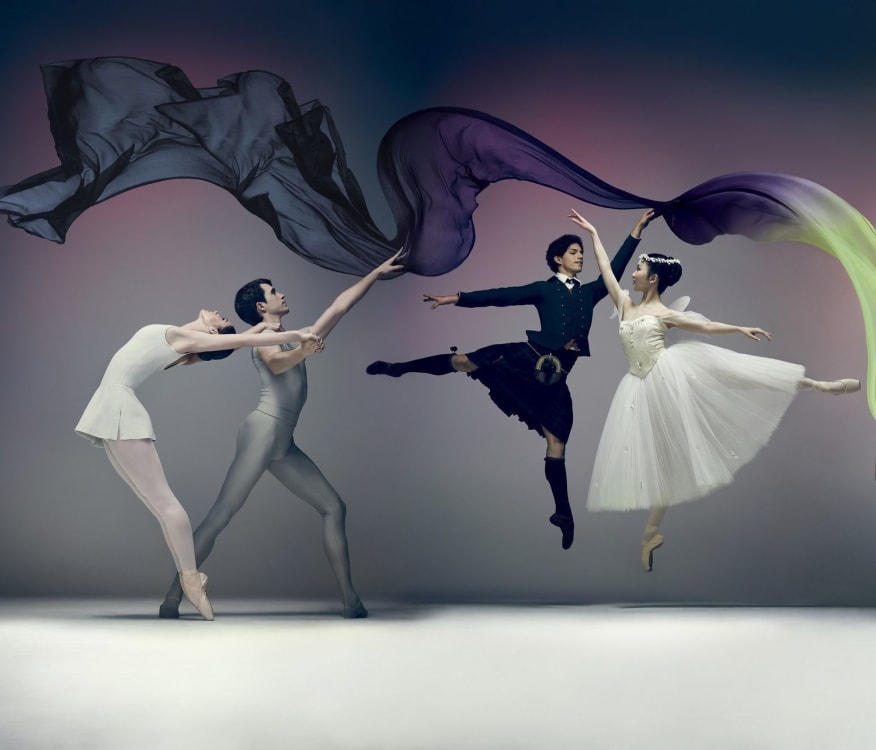 Shortly before curtain-up for La Sylphide, (the second part of English National Ballet's double-bill tonight) a slender, stylish, dark-haired woman makes her way, unassumingly, shyly even, along the centre aisle to her seat in the stalls. This is Tamara Rojo, artistic director of the ENB, soon to be joined by other members of the creative team, including guests from the Royal Danish Theatre.
I mention this because Rojo's presence in the audience is testament to her dedication to her company. Rather than casting a critical (though, no doubt, appreciative) eye over her charges, I had pictured her, at that very moment, easing herself, gingerly, into an ice-bath, groaning, wincing and muttering, "this is a young woman's game", or words to that effect. Rojo, it is clear, is made of sterner stuff. More of this later.
La Sylphide is an easy ballet to enjoy, and this production by the Royal Danish Theatre makes the most of this. Mikael Melbye's design deserves great credit—the hall of a 19th century Scottish manse is lovingly and imaginatively realised in act I, and the opening of act II (marvellously lit by Jørn Melin) evokes a mystical forest of such Disneylike resonance, we half expect Snow White or Bambi to amble into view.
It is a truth universally acknowledged that lads in kilts always go down well with a ballet crowd, but Isaac Hernández (as the ill-fated James) takes us beyond that. Hernández has a natural stage presence and his confident royales draw spontaneous acclaim from the audience. It's a strong ensemble piece: Jurgita Dronina does not disappoint as the Sylph, and Jane Haworth brings great relish to Madge, the avenging witch.
La Sylphide is a wily choice of companion piece to follow Kenneth MacMillan's striking and often demanding response to Mahler's Song of the Earth. MacMillan needed to go to Stuttgart to develop and première this piece after the Royal Ballet declared the music not suitable for dancers. I doff my cap to Gavin Sutherland, whose control of the score enables musicians, dancers and singers to perform 'in concert' in the fullest sense, this evening. Contralto, Rhonda Browne, and tenor, Samuel Sakker make a full contribution to this rare union of art forms.
The choreography is varied, difficult and captivating. MacMillan's vision, of a life with death as constant companion and escort towards renewal, is given bone and guts here. If you stand with those who like to weigh the value of dancers' performances by the seemingly effortless exhibition of their skills, this show may floor you—the straining sinews, heaving lungs and pounding hearts are often evident. For me, this adds to the drama of the piece. Life is hard; coping with death is hard. But life goes on, for those who persist. Life is renewed.
Through all the strain and sweat glides Tamara Rojo with grace, control and astonishing stamina. There is also courage and trust in her partners—one lift in particular looks, frankly, dangerous. Rojo is the deft, calm, poised yet vulnerable centre; holding our eye, making us believe, carrying us through. Her forms are clean and beautiful, the movement of her arms always allowed time to compass the space, fluently and expressively.
One can only regret—for her sake—that she can't sit there and enjoy her own performance, but then, who knows? Other miracles seem quite within her capabilities.
Reviewer: Martin Thomasson