Song of the Goblins
Ali Pritchard and pupils of Hotspur Primary School
Alphabetti Theatre
Alphabetti Theatre, Newcastle
–

Listing details and ticket info...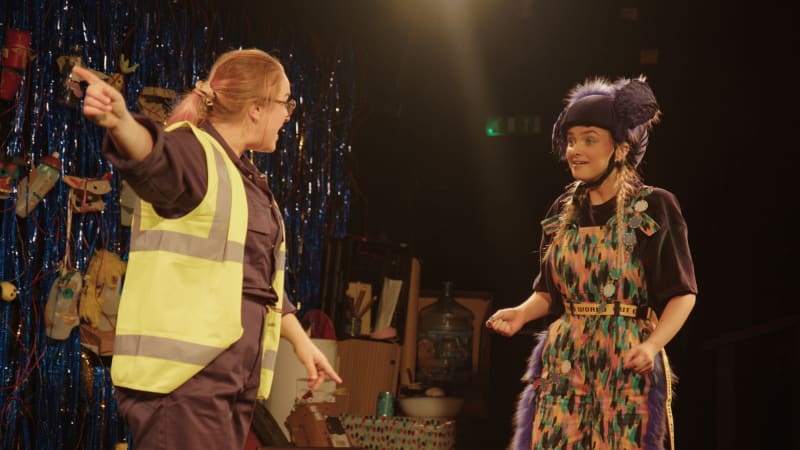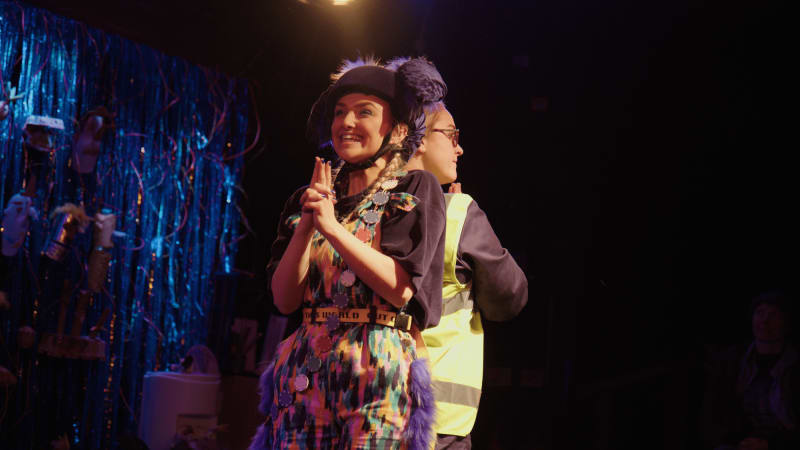 Alphabetti Theatre's fantastical family Christmas show is co-created with Hotspur Primary School and has the delightful premise that inside those green telephone boxes dotted around Newcastle, there's a whole other world—the world of the bad and madcap Goblins!
The telephone box is on stage and the box seems to be humming; an annoyed human makes a call to complain and enter engineer Bob Baldwin, played personably and likeably by Alexandra Tahnee, to investigate.
In no time, she has been swept through the 'rift' i.e. into the telephone box and the Goblin world ruled over by benign, all-singing Lord Jeffrey III, performed by Wilf Stone, who's also responsible for the tremendous live music and composition. The first scene is laugh-out-loud funny, with every last word of a sentence turned into a majestic choral finish! Young goblin Beatrice Bond is squeaky and played enthusiastically, sometimes a little too overenthusiastically, by Emily Ash.
The story hinges on the Goblin's quest to change their scary and bad image, but they have no plan. Eventually, after much singing and dancing, a decision is made to return to the human world.
Act II (after ice-cream) shows how they achieve this—more or less. A really successful scene is the capture of the fairy spy, Derek. The final scenes of course bring much hope and joy and include a wonderful lighting effect when all the fairies join in solidarity with the Goblins to "try our best" and the Goblins' reputation as nice is assured.
Lighting is by Chris Foley and the eccentric set and costumes are by Anna Robinson. It's all played at high tempo and with much energy from Bond and Baldwin, with a signature 'we're partners' dance; Baldwin's a particularly great dancer.
The language is truly wonderful, quirky and witty, bringing a smile to my face, the joy of creating this show shines through; Hotspur Primary's 40 young contributors' work is absolutely central to it. Ali Pritchard, who is also Alphabetti's Artistic Director, is the official scriptwriter and director. He said, "we at Alphabetti don't believe in doing the easy or boring thing—we want to challenge ourselves constantly, developing the performing arts ecology through experimentation, evolution and discovering excellence. This project is a huge risk—at a time where most theatres play it safe."
The risk has paid off! Alphabetti is also good at creating an atmosphere so that we, the audience feel comfortable and ready for the show. Finally, it is the only theatre that runs a late bar too…
The two boys I was with absolutely loved the performance; one had already seen it and declared he'd happily see it again.
Slightly rough around the edges, Song of the Goblins really is a 'must see' show with an important message delivered with passion, shot through with silliness, weird words and song and dance.
Reviewer: Dora Frankel