Songs for Nobodies
Joanna Murray-Smith
Garry McQuinn for RGM Productions and Daniel Sparrow Productions
Ambassadors Theatre
–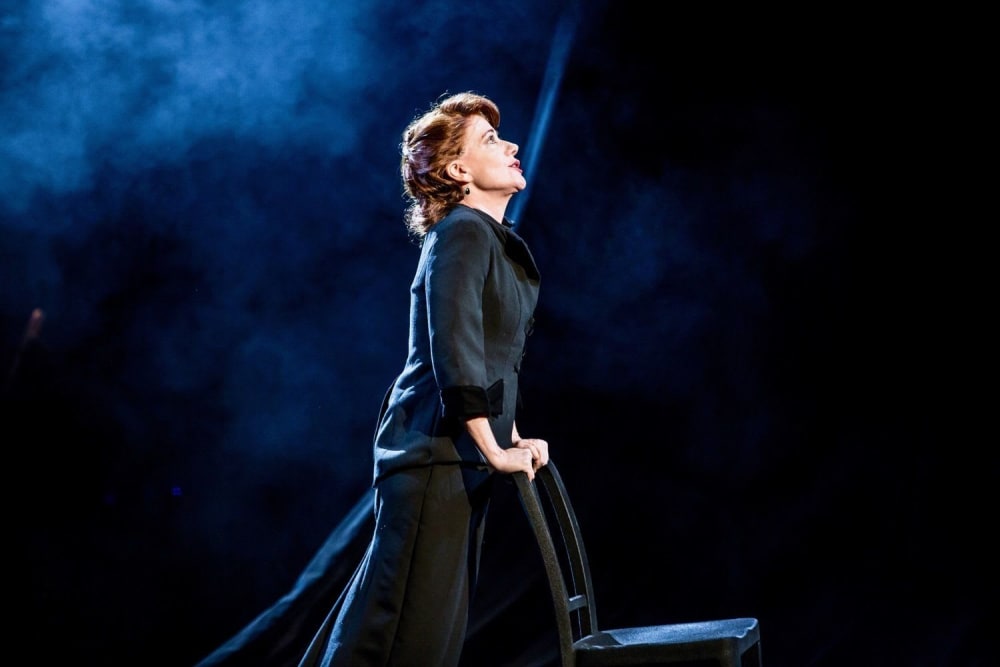 "Applause don't help you when you're in your bed at night."
The words which playwright Joanna Murray-Smith assigns to Nashville legend Patsy Cline cast a bitter-sweet shadow over Songs for Nobodies, which has just opened at the Ambassadors Theatre, following a run at Wilton's Music Hall last year.
Murray-Smith's premise, essentially reprised five times during the 90-minute show, is that music has the power to transcend mundane miseries and melancholy. She presents five scenarios in which the lives of ordinary people intersect by chance with the lives of revered divas of stage, screen and speakeasy—Judy Garland, Patsy Cline, Edith Piaf, Billie Holiday and Maria Callas—lifting the 'nobody' from their everyday cares and woes.
One should say first and foremost that Songs for Nobodies is a tour de force by Robinson. Murray-Smith has created a drama around Robinson's vocal talent, and her 'connection' to the repertoire of these legends of country, cabaret and the cabaletta. And Robinson's range is impressive, her commitment and stamina unwavering.
Robinson plays all ten characters. First, she's Bea Appleton, the cloakroom attendant at the Plaza Athénée on the night of Judy Garland's Carnegie Hall concert in 1961. Her husband has just ditched her and she's "crying, sitting in lavatory… when Frances Ethel Gumm happened to come in for a pee"; Bea proves more adept at fixing Garland's drooping hemline than her own relationship.
Then, there's Pearl Ashton, an usher at the Soldiers and Sailors Memorial Hall in Kansas City who meets Patsy Cline in her dressing room—on the night that Patsy dies in a plane crash. A young and impetuous reporter, Junior Jones, is sent to interview Billie Holiday. A loquacious Irish nanny, Orla McDonagh, indulges in philosophical reflection when onboard the Onassis yacht in the Mediterranean. The most compelling life story is that told by Edie Delamotte, a librarian from the provinces who owes her very existence to the role played by Edith Piaf in her father's escape from a prisoner-of-war camp in Alsace.
The monologues are touching, tearful and, at times, wry. The nobodies seem to be distinguished chiefly by their 'tipple': one sips tea, another swigs scotch. They come from Ireland, New York and the provinces, but the accents merge into one. The sequence is rather self-serving: there's no real common ground between the five disconnected meetings other than the question, 'what's happiness?', and the fact that all five musical greats met a tragic end. If there's a lesson to be learned there, it's not one that Murray-Smith explores.
And, memory easily slips into nostalgia. There are moments of saccharinity and sentimentality. Bea's pragmatism—"Happiness is ordinary misery without extraordinary fear. Or in a nutshell: Happiness is the temporary illusion that nothing is about to change for the worse. That's happiness"—seems more truthful than her later homily: "Happiness is just two flawed human beings who don't allow what they despise in the other to overwhelm what they admire." Garland's response—"Bea Appleton, you see more than what most people see"—feels as hollow as the lyrics of "Come Rain, Come Shine" which it prompts. "I'm gonna love you like nobody's loved you" is hardly likely to console someone whose marriage has just crumbled apart.
Justin Nardella's set is simple. Either side of a grandiose curve of draping curtain, all that's needed is a dresser (bearing a few useful props), a table and lamp, a chair. Malcolm Rippeth's lighting skilfully effects the transition between reminiscence and re-enactment, injecting imagined razzamatazz as Robinson is framed by an arc or loop of lights. At times, the three musicians (Greg Arrowsmith, Matthew Whittington, Oliver Weston) emerge from the darkness.
The songs, however, are not really integrated into a coherent drama; they're there because Robinson wants to sing them. In fact, the show's raison d'etre seems to be Robinson herself: she admits that Songs for Nobodies derives from her own pleas for Murray-Smith to write her a "one-woman play which involved singers from five entirely different musical worlds".
She inhabits these musical worlds with aplomb. Amplification is used throughout, for both text and song, and Robinson's voice is engaging and sincere. She has style. But, while her rendition of "Strange Fruit" is spellbinding, Floria Tosca's operatic prayer and paean to the power of art, "Vissi d'arte", is less comfortable. If you are a lover of opera, or of Puccini, you're probably not going to feel that the show ends on a high note.
What Robinson does do, however, is to demonstrate the power of music to connect and communicate.
Reviewer: Claire Seymour