The Sound of Music
Music by Richard Rodgers, Lyrics by Oscar Hammerstein II, Book by Howard Lindsay and Russell Crouse
The London Palladium
(2008)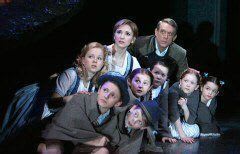 Rodgers and Hammerstein did not get good notices when The Sound of Music was premiered nearly fifty years ago. The critics found its highly calculated schmaltz old-fashioned and didn't think it was as good as their previous shows: Oklahoma! (1943), Carousel (1945), South Pacific (1949) and The King and I (1959).
The Sound of Music (aka The Sound of Mucus and The Sound of Money) may not have been popular with critics but it has always been a huge success with audiences.
The combination of a boisterous governess, sweet nuns, cute children singing Do-Re-Mi and nasty Nazis has proved irresistible. The original production ran for 1,443 performances on Broadway and 2,386 performances in London.
Hammerstein said any revival had to be twice as good at least as the original since audiences remembered the original as being twice as good as it really was. It is very difficult for any stage revival to compete with the memory of Julie Andrews's definitive film performance.
The film was one of the biggest commercial successes the cinema has ever had, bettered only by Gone with the Wind and Star Wars.
How then do you solve the initial problem of casting a role forever identified with Julie Andrews and make the show a box-office success certainty before it has even opened? Andrew Lloyd Webber had the clever idea of auditioning actresses week by week on television in a knock-out competition decided by the viewing public. Connie Fisher was always the obvious winner.
When Connie Fisher's contract ended and wanting Summer Strallen to take over, Lloyd Webber came up with another original idea. He got Strallen into a television soap, Hollyoaks, in which she played somebody who wants to star in The Sound of Music and wins the role.
Incidentally, soon there will be lots of little boys, week by week, singing "I'll Do Anything" on television, hoping to land the leading role in a new production of Lionel Bart's Oliver!
All those who admired Strallen's wonderful expressive eyes, her lovely, long, high-kicking legs, and her star quality as Madcap Maisie in the Open Air Theatre's production of Sandy Wilson's The Boy Friend two years ago, will be delighted by her success as Maria.
Margaret Preece as the Mother Abbess singing Climb Ev'ry Mountain brings act one to a terrific climax and at the end of act two has the audience on its feet.
Rodgers and Hammerstein's musical has an endless supply of good tunes. Jeremy Sams' wholesome production, thirteen months into its run, is in good nick and ideal entertainment for the whole family.
If you haven't yet seen The Sound of Music you are denying yourself a treat. If you have seen it, Summer Strallen is an excellent excuse to see it again.
Philip Fisher reviewed the first version of this production, starring Connie Fisher
Visit our sponsor 1st 4 London Theatre to book tickets for The Sound of Music
Reviewer: Robert Tanitch