Soup
Ella Hickson
A Traverse and Òran Mór production
A Play, a Pie and a Pint Traverse Theatre, Edinburgh
(2010)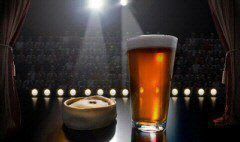 There was a whole modern kitchen on stage, a step further than the usually sparse or symbolic sets of this lunchtime series and the performance that took place there was equally naturalistic and contemporary.
The dialogue and three well formed characters created a very believable domestic scene, but it did feel like something was lacking. There was a lack of bite, the action seems to play out at a distance and it is difficult to be moved by it. The whole feel was more like that of a television show, it was all rather too careful and clean for theatre.
Dan, played by fresh-faced Finn Den Hertog, returns to his parents, Annie (Bridget McCann) and James (John McColl), with some news only to discover that they are too wrapped up in their own problems to give him any time. His mother in worship of the Lord, his father in hatred of technology.
Hertog does make you empathise with Dan, such a lovable young guy, though he has almost too much patience with his parents and his irritation with his father doesn't appear to boil up; even the end of the play doesn't have enough passion to it. McCann and McColl, while not creating parents from hell, did create two distanced, slightly selfish characters. McCann a ditzy loving mother who is too busy organising church events to hear her son's news or witness her husband's job self-destructing.
James is seeing his job in journalism move from print to online. This is dealt with in a comic and serious way, although some of the jokes are quite cheap and as a serious issue it is rather dated and it is also not an industry that one has much sympathy for.
This squabbling kitchen sink drama offers very little in the way of interest either in terms of the issues it covers or the way it covers them.
Soup is little better than a soap.
Until Saturday
Reviewer: Seth Ewin