South Pacific
Rodgers & Hammerstein, adapted from Tales of the South Pacific by James A. Michener
UK Productions
New Victoria Theatre, Woking, and touring
(2008)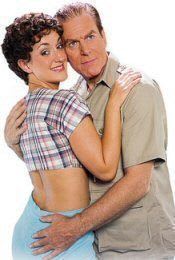 This is a very busy show. The twenty seven strong cast are kept constantly on the move – not to mention the scenery and props. Seven musicians and the talented and energetic ensemble cast give their all, but somehow, despite the glorious score, the first scenes were a disappointment.
Set in the South Pacific during the Second World War, there are two love stories here and both are affected by racial prejudice. It is love at first sight between a young nurse from Arkansas, Nellie Forbush, and plantation owner Emile de Becque. Helena Blackman might not have achieved the lead in The Sound of Music (she did reach the finals of the television contest) but she's doing very nicely, thank you, as nurse Nellie, despite the unflattering hairstyle/wig, and yes - as Mary Martin did famously so many years ago – she does get to "Wash that Man Right Out of my Hair" every night on stage. Her singing voice is delightful, a marked contrast to the rather strident tones of her character, although she did keep her accent well. So far, however, her acting ability lacks credibility. She has all the correct moves and expressions, but seemingly with no real feeling behind them, and any spark of emotion between her and Emile is lacking. To be fair, this was the first night of the second leg of a very long tour and after a two month break it may take a little time to get back into character.
Dave Willetts, by contrast, has great charisma and stage presence, performs expertly and sings sublimely, although his French accent leaves a lot to be desired.
The production really begins to live with the arrival of Bloody Mary, a rough-and ready down-to-earth islander delighted to be making loads of money selling grass-skirts, boars' tooth bracelets and shrunken human heads to the recently arrived marines. This is Filipino-born Sheila Francisco who played the same role at the National Theatre and is the undoubted star of this show. Beginning with comedy and cheeky banter between herself and the marines, she then brings real emotion and longing to her rendition of Bali Ha'i as she describes the 'special island' seen in the distance – so much so that it persuades a reluctant Lt. Joseph Cable to pay it a visit - and I wouldn't mind a trip there myself!
Bloody Mary's opposite number is Christopher Howell's Luther Billis, a wheeler-dealer himself, but no match for Mary, and very much the comic element, especially with his portrayal of a grass-skirted beauty as he 'assists' Nellie in Honey Bun - her song and dance routine at the Thanksgiving Follies show.
The number of beautiful and familiar songs in this show is amazing – This Nearly was Mine, Some Enchanted Evening and, of course, There is Nothing like a Dame, to name only a few, but one was not familiar. You've got to be Carefully Taught describes the racial prejudice predominant particularly in the Southern States of America at the time and sadly still not totally eradicated today. The girl from Arkansas is horrified to find that her love had fathered two mixed race children. However delightful they are she turns away from him, and finally only just manages to overcome her intolerance.
The second love story does not have a happy ending. Lt Cable, performed and sung beautifully and with feeling by Ian McClarnon, falls for Mary's daughter Liat - ironically played by Japanese born Kanako Nakano who has few words, but very beautiful lyrical dancing. He is killed by the Japanese before he can come to terms with his bigotry.
Although initially disappointing, the show is still well worth seeing for some truly star performances and, of course, the music.
Touring to Sheffield, Milton Keynes, Belfast, Dartford, York, Glasgow, Liverpool, Wolverhampton, Southampton, Cambridge, Bristol, Brighton, Torquay, Darlington, Rhyl, Bradford, Norwich, Derby, Malvern, Southend, High Wycombe, and Cardiff.
Reviewer: Sheila Connor