Spamalot
Eric Idle and John Du Prez
Howard Panter for The Ambassador Theatre Group Ltd
Richmond Theatre
–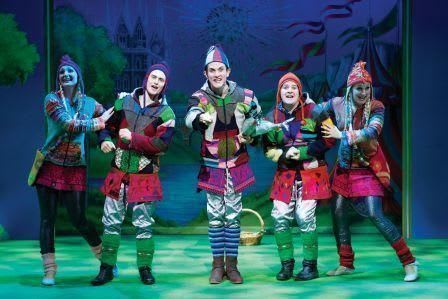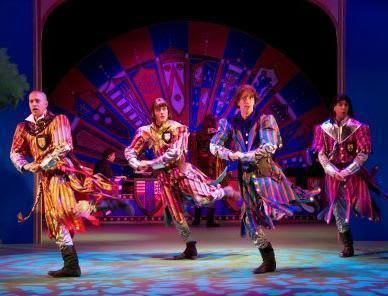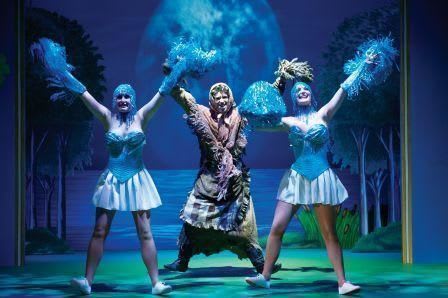 Back in 2004, the crazy world of Spamalot premiered in Chicago. Now, eight years on, the production has been seen all over the world from Madrid to Mexico and is currently working its way around the British mainland on its second UK tour.
Lovingly ripped off from the 1975 film Monty Python and the Holy Grail, Spamalot tells the tale of King Arthur and his quest for knights, the Holy Grail and, as decreed by God, to present it all in musical form. Written by Python Eric Idle with music by long time collaborator John Du Prez, Spamalot is a wonderfully camp and clever celebration of musical theatre and British humour.
Flying cows, ravenous rabbits, farting Frenchman and lots of peasants who aren't quite yet dead, Spamalot has it all and much more. Surreal yet splendid, slapstick yet sublime, the musical bombards its audience with gags and comic patter, but remaining all the while tight and punchy. Running at an hour and fifty five minutes including the interval, Spamalot is able to keep up its relentless pace much helped by a fantastic cast.
In the role of King Arthur, Steven Pacey makes for a regal royal accompanied on his quest by the coconut clopping Patsy played by Todd Carty. The stark contrast of freshly pressed robes with mud infested tatters contributes to the show's underlying humour in which expectations are challenged and subverted. The lower classes often speak in a highly educated manner juxtaposed against the aristocracy's bufoonish behaviour and the conventions of musical theatre are not only observed, but openly discussed and ridiculed as the knights find themselves spontaneously singing and dancing every time the band strikes up.
In 2005, Spamalot won the Tony award for Best New Musical and it is easy to see why—its musical numbers are incredibly witty and well written. They pastiche and parody the genre to great effect, in particular Andrew Lloyd Webber's constant key changes and rising melodies, but in order to do this, you have to know the form inside out, which Idle and Perez demonstrate impeccably, especially in their songs written for the show's diva; the Lady of the Lake played by Bonnie Langford.
Langford gives an exuberant performance and seems to enjoy sending herself up as she sings 'The Song That Goes Like This' and 'The Diva's Lament'. Indeed each member of the ten strong cast has impressive vocals, which are only slightly threatened when the enthusiastic audience gets the chance to join them with 'Always Look on the Bright Side of Life' in true panto-songsheet style at the show's finale.
Hugh Durrant's set and costumes are equally as witty as the show's book, music and lyrics, with Eurostar trains and wind turbines cropping up in the medieval landscape. The set works effectively in transporting the audience to place after place in the show's episodic structure, yet it is a shame that the Las Vegas-esque Camelot and Lancelot's coming out number don't contain more sparkle and flashing lights.
In the role of Lancelot himself, Kit Orton is a talented actor who also plays the parts of the French Taunter, Knight of Ni and Tim the Enchanter. Each character is well rounded and defined, demonstrating Orton's true gift for comedy, whilst Rob Delaney and Adam Ellis also give sterling and expressive performances as, amongst others, Sir Robin and Prince Herbert respectively.
With its great array of eccentric and extrovert performances, Spamalot reminds its audience of the ultimate function of theatre: to entertain. With lines such as "Your mother was a hamster and your father smelt of elderberries", Spamalot is a show for the Beano fans of yore, allowing its audience to indulge in scores of silliness whilst paying homage to the British institution that is Monty Python.
'Spamalot' plays at the Richmond Theatre until 7th April before touring to Aylesbury Waterside Theatre (9th - 14th April), Sunderland Empire (16th - 21st April), Bristol Hippodrome (23rd - 28th April), The Churchill, Bromley (30th April - 5th May), Cambridge Corn Exchange (7th - 12th May), Hall for Cornwall, Truro (14th - 19th May) and Manchester Opera House (21st - 26th May).
Reviewer: Simon Sladen