Spamalot
Eric Idle and John Du Prez
The Playhouse, Edinburgh
–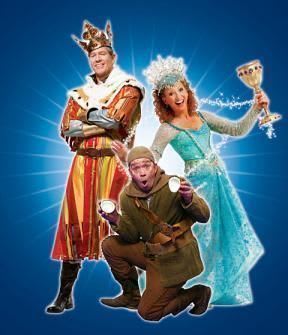 The new musical lovingly ripped off from Monty Python and the Holy Grail isn't so new anymore; it first appeared seven years ago. There are some slight changes to the orginal and these are definitely for the better.
"You Won't Succeed On Broadway" about musicals needing Jews has been replaced with "You Won't Succeed In Showbiz" about needing celebrities. This makes far more sense to a UK audience, is more up-to-date and also most importantly a lot funnier. I remember finding the original rather uncomfortable, not because it was especially anti-Semitic, but just that no one in the London audience was laughing much.
In a similar vein the number "His Name Is Lancelot", in which Lancelot is outed as gay, felt rather dated, obvious and not terribly Python-style humour when I first saw it. However in this production Niall Sheehy gave a delightful performance as Lancelot and the whole scene worked much better. Reading the programme afterwards i was genuinely quite surprised to find he was the understudy as he really stood out in this production.
Who better to send-up Andrew Lloyd-Webber-style musicals than that bubbling musical stalwart Bonnie Langford? She is perfect as the Lady of the Lake, the desperately demanding diva who sings several satirical songs. Langford has probably the best part in the show and she certainly knows how to belt out a musical number. Her costumes too are great, where the Python film was grimy and beset with rain, Spamalot is a colourful medieval pageant, Langford's turqoise outfits in particular.
Steven Pacey makes a suitably straight King Arthur against all the silliness. Of this silliness though the scenes and songs that are funny tend to be the ones created for the show. One of the show's problems is trying to stage scenes from the film which everyone has seen and knows the lines inside out.
Langford singing "The Song That Goes Like This" is superb, but this is offset by clumsily trying to recreate the Black Knight losing all his limbs. So that it is a slightly unhappy cross between a modern knowing satire and also rather lame nostalgia.
The other problem this production did suffer from was the sound quality; there were some serious issues on the technical side at the Playhouse and it was difficult particularly to begin with to make out all the words. Throughout the show there were problems with clarity that were not the fault of the performers.
Possibly the best alteration to the show was the cameo by its creator as The Creator or simply Eric Idle as God, not just a voice (it was John Cleese's voice originally) but an impressive projection with Idle's head filling the stage. A glorious send-up of egotistical artists or perhaps just simply an Eric on an egotrip.
Reviewer: Seth Ewin