Monty Python's Spamalot
Eric Idle and John Du Prez
Sunderland Empire and touring
(2011)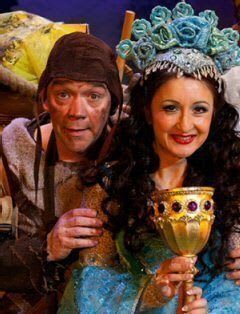 "You won't succeed in showbiz if you don't have any stars," they sing in Spamalot. You need, the song says, big names, A-list celebs, to make your show a success.
Rubbish! The first night of Spamalot at Sunderland Empire proved it. We knew we weren't going to see Jodie Prenger, but we didn't get Phill Jupitus either. He was ill and his understudy, Graham MacDuff who normally plays Lancelot, took over, which meant that ensemble member Kit Orton stepped up to Lancelot. But as my companion said, "I don't see how it could have been any better with Jupitus."
The fact is, the show is the star. As I never tire of saying, we have real strength in depth in music theatre in the UK and while a "name" can bring something of their own personality to a show, such is the quality of our music theatre performers that a production like this, which has been running in the UK since 2006, albeit with some changes and tweaks (such as shooting Susan Boyle!), will always work, regardless of who, famous or otherwise, is in the cast. Assuming the performers have talent, of course, which this cast certainly has.
Both MacDuff and Orton were entirely comfortable in their roles, as though they'd being doing them for years, and, as expected, Todd Carty consistently amused as that most Pythonesque of characters, Patsy, but the stand-out performance for me was Jessica Martin as the Lady of the Lake. She may be small of stature but she has fantastic stage presence and a huge voice and made each song her own. Her performance of "The Diva's Lament" was an absolute joy.
Spamalot is a gloriously funny romp, with one-liners, surreal situations, sight gags and witty songs following one after the other at a rate of knots, and the audience roaring with laughter from the start.
Loved it!
David Chadderton reviewed this production at The Palace, Manchester
Reviewer: Peter Lathan