Monty Python's Spamalot
Book and lyrics by Eric Idle, music by John du Prez and Eric Idle
Lyceum Theatre, Sheffield, and touring
(2010)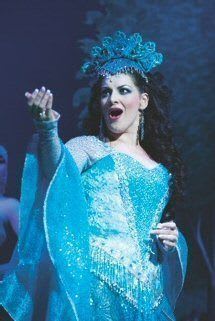 This was a delightful evening in the theatre and should not be missed. After decades of collaboration on a variety of TV, film, theatre and radio projects, the Monty Python group (Terry Jones, Graham Chapman, John Cleese, Eric Idle, Terry Gilliam and Michael Palin) devised the film, Monty Python and the Holy Grail in 1975. Much later, this was transformed into a musical by Eric Idle and opened on Broadway in 2005.
The musical bears some resemblance to the Arthurian legend but King Arthur, Sir Galahad, Sir Lancelot, Sir Bedevere, The Lady of the Lake, and eventually Guinevere are reincarnated in comic mode, and although the action does indeed include a quest for the Holy Grail, the story provides Idle with a loose framework on which to hang comic riffs in the familiar style of the early Python sketches, and a galaxy of additional characters, who would be at home in pantomime.
Patsy, played by Todd Carty (whom some will remember as Tucker in Grange Hill and Mark Fowler in EastEnders) is a baggage carrier, responsible for the coconut shells, which provide the sound effect for the non-existent horse (an ongoing joke). Carty is wonderfully expressive in a virtually non-speaking role and leads Always Look on the Bright Side of Life in the second half.
Prince Herbert (David Langham) is a prince imprisoned in a tower, forbidden to sing by his bullying father (Simon Lipkin) who wants to force him into an arranged marriage. He is eventually rescued by Lancelot (Graham Duff) who happily recognises that he is gay, and after a costume transformation which would look good on a Gay Pride March, eventually marries Herbert. 'In a thousand years time', he says, ' . this will still be controversial'.
Eric Idle puts in a brief appearance (pre-recorded) as a crusty, bad tempered God with a good line in coarse invective.
Idle's quirky, often surreal scenario is constantly amusing but never offensive. There is an innocent quality to the performance, which is reminiscent of pantomime at its best; the painted set, the colourful costumes, perfectly timed sound effects, hugely entertaining and amusing dance sequences, pratfalls, chopped off limbs and heads (all in the best possible taste), audience participation, all place the show firmly in the pantomime tradition. The audience was completely enthralled by the performance and joined without invitation or self-consciousness in the familiar Bright Side of Life song. It was a pleasure to be a part of this stunning performance.
The music is a delight throughout, as is the singing and dancing from this multi- talented cast. As the Lady of the Lake, Jodie Prenger looked stunning and sang superbly, especially in numbers that were parodies of popular songs. This was very much an ensemble production, but within that, each member of the cast brought something individual and special to it.
Spamalot is at The Lyceum until 11th September and then continues its tour. Don't miss it!
David Chadderton reviewed this production in Manchester
Reviewer: Velda Harris