SparkPlug
David Judge
Box of Tricks
HOME Manchester
–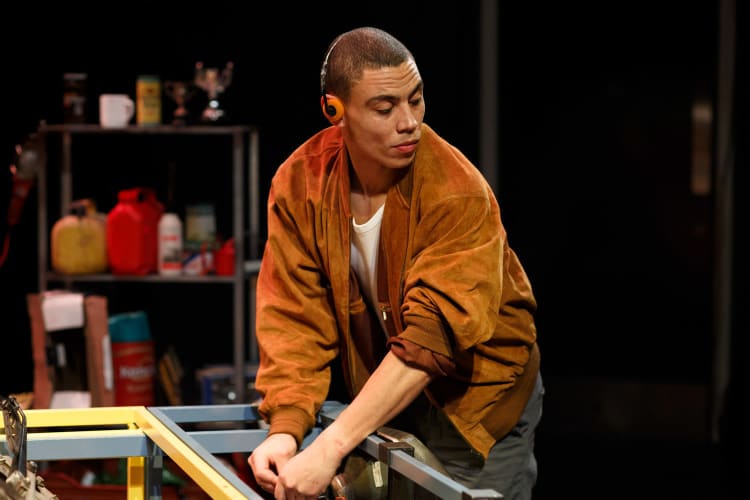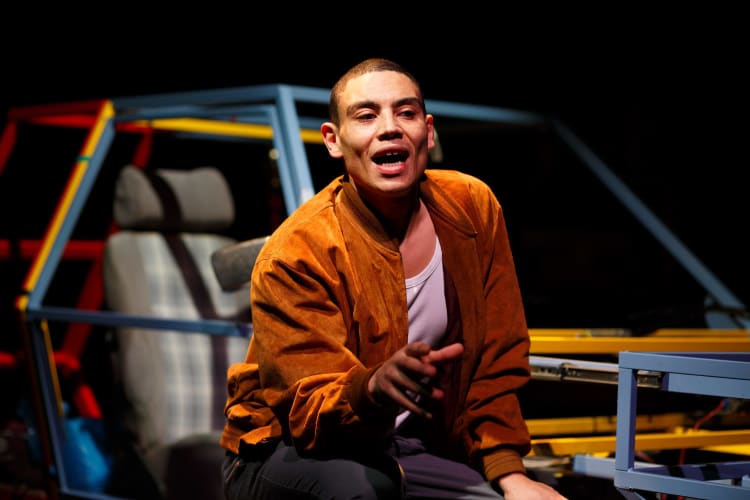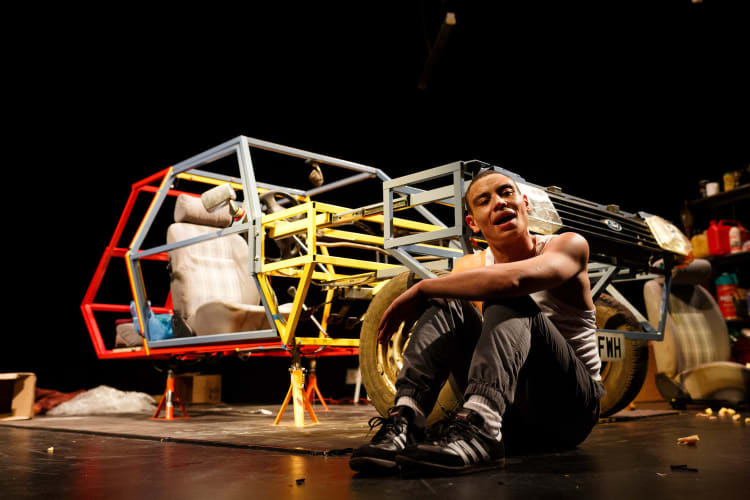 Box of Tricks, a company prepared to put its money where its mouth is in the risky area of new writing, has spent two years developing this script from writer-performer David Judge (you can hear Judge and director Hannah Tyrrell-Pinder talking about it in the BTG podcast), but in a sense he has invested more in a story taken largely from the first ten years of his life, being brought up as a mixed-race kid with white parents in 1980s Manchester.
Judge opens as himself (he keeps his own name, even if the story is fictionalised) telling the audience at the start of a performance poetry-style monologue, "I've got two dads. One's black. That makes me black, I suppose." He then enters the metal framework of Katie Scott's ingenious set design which becomes his dad's Ford Capri with Rod Stewart blaring out of the cassette player and he becomes his dad, Dave, (it took me a moment to realise this; others who hadn't had the benefit of interviewing the actor took a bit longer to work it out) in the early 1980s before he was born.
Dave is picking up his sister from a party in Moss Side, but she is late coming out, the party starts kicking off and, when he goes in to find her, she is being sick after a drink and drugs binge while someone has possibly put her friend Joanne's head through the window. Dave likes Joanne a lot and they start seeing each other, even after she tells him that the black man who beat her up got her pregnant. But, despite protests from his family—particularly his Irish mother—they stay together and he becomes a devoted father to young David, even when Joanne eventually leaves him and appears on Kilroy's The Time, The Place declaring that she is a "gay mother".
This is a well-told, detailed story that does highlight some issues of being a black or mixed-race child brought up by white parents, but this is far from being a single-issue drama. It is also a love story gone sour, it touches on family disputes, school bullying, discipline of children, parenthood in general and lots of other things, but all told in a warm-hearted and often very funny way. It feels like a script in which every word has been carefully honed so that none is wasted; perhaps the final breakdown of Dave went on a bit long for me, but it is still compellingly performed.
The production is as detailed as the script, with some lovely little changes of pace that keep the performance alive. While this is basically a monologue that could be performed on an empty stage, the space and the set are used well to highlight elements of the story. The metal frame becomes different locations including three different cars, cleverly indicated with a shifting around of the headlights and radiator grill and a change of number plate. Music from the period—it is set between 1983 and 1993—subtly sets the scene and also provides motifs for the characters: Rod Stewart for Dave; UB40 for Joanne; Michael Jackson for David.
Judge tells the story well, but is also a very physical performer, even in this confined space. He tells most of the story as Dave, but also at times becomes his mother, Joanne, young David and others when the story requires it.
While this may be a personal story for Judge, there is nothing self-indulgent about it, nor is it a tub-thumping issue play or one of those memoirs about how hard life was for the writer. It is just a lovingly crafted story, well told, that has been turned into a really interesting piece of theatre that is well worth seeing—and which is already selling out some performances in HOME's Theatre 2.
Reviewer: David Chadderton