Speak
Devised by the company with Roger Robinson
Theatre Royal Stratford East Young Actors Company '08
The Lift in Stratford Park
(2008)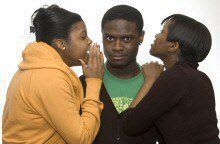 The first play of this year's London International Festival of Theatre is this lively contribution from Stratford East's youth performance group with a devised show based on their own experience and research, developed with guidance from spoken word poet Roger Robinson.
They create a vivid picture of a young single mother, Jamie Lee, former tough girl in her neighbourhood, struggling to make a new start and build a new life while her old mates are involved on the fringes of crime.
It is a show packed with individual characters with glimpses of multiple stories from bullyboy pimp to gospel church grandma, gang girl to council housing office clerk. There is a nice touch when the guy who gives Jamie a break in his clothes shop turns out to be someone she used to beat up as a kid. It is great to see these performers relishing the language of the verse they have created and working wonderfully in unison in both speech and movement. The company all stay around the acting area, sometimes echoing the current performer's action or supporting with clever vocal support as well as moving and manipulating scenic elements to change locations. This is much more than good drilling on the part of director Dawn Reid, each individual makes a real contribution. There is a strong element of physical theatre and a use of video that makes a real contribution without being a gimmick.
It is a play made by people about the problems and issues that concern them and that comes over forcefully: breaking out of a rut, dealing with peer pressure, coping with a baby, keeping the right side of the law. There are some lovely performances: especially Jamie, the shop owner, the old lady and the 'bad' girl in on a money-making racket (could be drugs, I think it's deliberately not specific), but this is very much an ensemble effort full of energy and don't they do it well!
Further performances in Stratford Park 14th, 16th, 18th June.
The Lift will be moving to the South Bank on 26th June where there will be another performance on 29th June 2008.
Reviewer: Howard Loxton