Speed-the-Plow
David Mamet
Library Theatre, Manchester
(2006)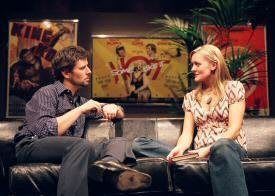 Artistic director Chris Honer has assembled a strong cast for his production of David Mamet's Speed-The-Plow, currently running at the Library Theatre in Manchester.
This short play satirises the American movie industry's reputation for chasing ratings and money over artistic quality, while taking a sideswipe at empty but profound-sounding fake spiritualism that certain sections of the American middle classes turn to to give their lives 'meaning'.
The play centres on Gould, a newly-promoted movie executive, and Fox, a colleague who has been hanging onto Gould's coat-tails for some years. Fox has secured a verbal agreement for a major star to appear in a film with a dubious script, which he brings to Gould to co-produce - which will make them both a considerable amount of money. However a book that Gould has been given to 'courtesy read' strikes a chord with temporary secretary Karen, who tries to persuade Gould to make this instead. The book is a pseudo-religious text about the end of the world and does not have obvious potential as a film, but to aid her case Karen reads absolutely meaningless quotations from the book as though they have a deeply profound meaning. The climax is a battle between Fox and Karen for Gould's movie-making 'soul', which at once stage turns shockingly violent.
The play uses Mamet's trademark fractured dialogue, with lots of repetition, incomplete sentences and short, meaningless fragments of speech. This only works if the pace and rhythm of the delivery is right; it works well most of the time in this production, but occasionally the pace slows, presumably to give a bit of variety, and the dialogue no longer sounds right or makes sense.
Martin Ledwith is very strong as the confident executive Gould, with excellent support from Jamie Lee as the fawning, neurotic but ultimately stronger Fox. Rachel Hayden completes the trio as Karen. Designer Dawn Allsopp has created a stylish set with an imaginative use of a revolve to change between Gould's office and his house and back again.
The production brings out all the humour in the play well. Honer has created a production that looks good, contains some very good performances and is entertaining, and brings out the more shocking moments in an effective way.
"Speed-The-Plow" runs until 17th June 2006
Reviewer: David Chadderton