Speed-the-Plow
David Mamet
Ethel Barrymore Theatre, New York City
(2009)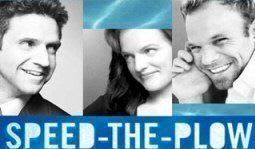 Speed-The-Plow has suffered some casting issues in its run to date, with original cast member Jeremy Piven withdrawing due to illness in mid-December (currently Norbert Leo Butz is performing in the role of Bobby Gould). The challenge this presents has been largely overcome, and in fact it's easy to imagine Piven, while no doubt capable of performing the role (see his work on HBO's Entourage) would have been a huge distraction from both the text and the electric performance of Raul Esparza (Charlie Fox). Also in the production is Elizabeth Moss (as Karen), currently a cast member on Mad Men and well known before that as Zoey Bartlett on The West Wing.
Overall, the cast changes (Butz will be replaced by William H. Macy on January 13th, 2008) have resulted in a strong performance, and the production is enjoyable to watch both on the level of pure entertainment and that of an instructional performance for those interested in theatre production. Director and performers make each decision and internal debate so clear that following the thought process of each character - particularly Gould's - is delightful, and the tight relationship between Gould and Fox makes their well-constructed ethical quandaries compelling.
Moss' performance is not the stuff of which great theatre careers are made, but part of this may be that as written, her character spends half the play as a fantasy object for Gould and the latter half as Fox's antagonist. Karen's own ambitions are unclear until the very end of the play - her subconscious motivations may be revealed in one poorly-placed declaration, but Moss fails to wrap Mamet's characterization around a core idea or desire, and so Karen's ambiguity is dissatisfying for the audience.
Questions Mamet asked in his 1980s-era play, such as questioning the responsibility of tastemakers to ensure the public has the option to exercise good taste over pure commercial motivations, are perhaps even more relevant for today, although the level of participation in making art - whether it be videos on YouTube, social network websites, or straight-up 'old fashioned' blogs - has increased to a point where perhaps there need not be so much fear about losing out on significant artistic works' being produced. Back in the 80s, there was less option for alternative production and distribution, but now Hollywood can be left to produce their Hollywood thrillers and buddy movies, while perhaps the book Karen champions would have been more easily sold to an independent, artistic maker with the means to distribute their vision on the web.
Speed-The-Plow has the rare distinction of being a crowd-pleaser that audience members will keep thinking about for days afterward. It is a Broadway play with zero schmaltz, which nonetheless delivers on its promise of high quality acting and a compelling, fast-paced story which is a pleasure to sit through and consider.
Reviewer: Rachel Lynn Brody