Spend Spend Spend
Book and lyrics by Steve Brown and Justin Greene, music by Steve Brown, based on the book by Viv Nicholson and Stephen Smith
Union Theatre
–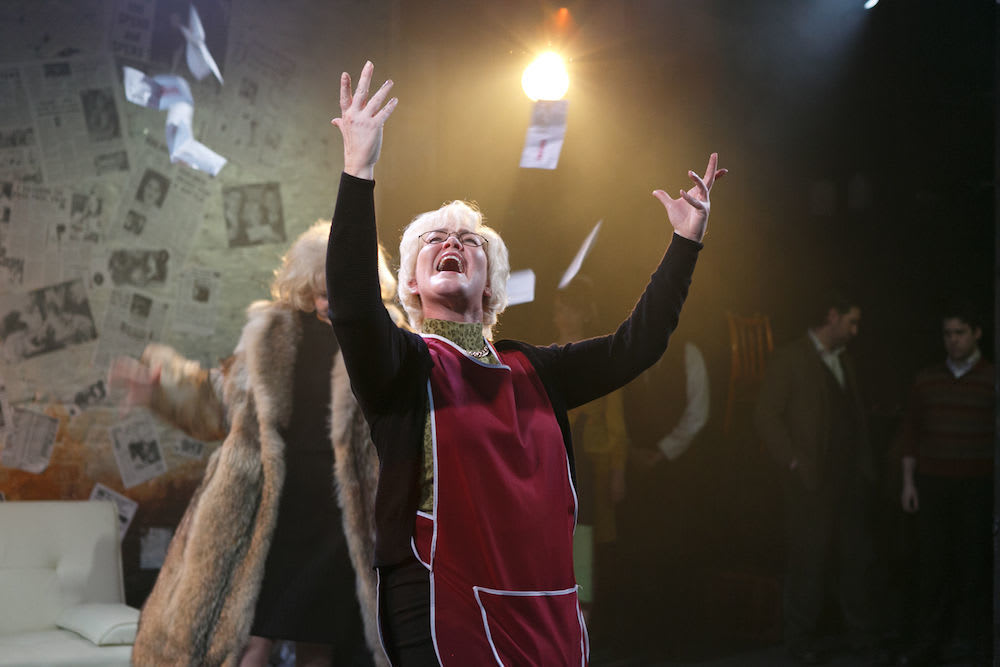 In 1961, Keith Nicholson got eight draws on his football pools coupon and he won £152,319—a fortune then equivalent to about £3 million today.
When asked by a newspaper reporter what they were going to do with the money, his wife said "Spend, spend, spend!" and she did. This musical is her rags-to-riches and almost back again story as she tells it, based on her autobiography.
It goes back to her tough teen years and two marriages before that big win, through the splurge years and an uncomfortable move to upmarket Gosforth, widowhood and bankruptcy.
Julie Armstrong is the solid centre of director Christian Durham's production. She looks back from the salon where she has a more settled life as a hairdresser, a granny whose granddaughter has just won £25 and says she too is gong to "Spend, spend, spend".
The older Viv sometimes becomes part of the action but her life is acted out by Katy Dean as Young Viv, a feisty performance of a raucous life lived near the knuckle, with David Haydn as her domineering, heavy-drinking dad and Kerry Whiteside as her put-upon mum. They are a pretty rough lot, though Tom Brandon brings a touch of gentleness as Matt, her likeable first husband, who plucked up courage to ask her out as she sold ice cream at the movies.
"Ice Cream Girl" is just the first of several songs that become increasingly raunchy but Viv soon found Matt dull and went on to husband number two, miner Keith (James Lyne), the pools winner. After a binge trip to the US, their tempestuous relationship might have settled down: "Canary in a Cage" gives a time for reflection.
It comes just in time: the repetitive pattern of excess and the up-tempo numbers are beginning to pall, though packed with energy the onslaught is relentless, admiration for Viv's frank openness fracturing and any vestige of sympathy owed largely to the mediation of the warmth and charisma with which Julie Armstrong as the her older Viv is telling the story and already knowing what is ahead for her.
This time for tranquillity is soon over: Keith is killed in a car crash. When bank manager and tax man (Stuart Simons and Adam Colbeck-Dunn a comical duo) announce that all Viv's surviving property and capital is not hers but part of dead Keith's estate, she has to go to court to keep anything—and that's just the beginning of the downward decline.
Choreographer Heather Douglas has mounted the musical numbers with brio and the whole company coalesce in lively performance. Most of the time they are all on stage, lining the walls, between and behind the audience, resetting a rare piece of furniture or holding props to identify a setting. It is a strong ensemble; whatever posh conservatoires they went to, here they are convincingly common and proud of it.
There is not very much dialogue; it's a largely sung-through show, dance part of the telling not just decoration, which helps, for accents don't allow for clear articulation and voices on press night were often drowned out by a very loud piano (though that should be sorted as the show runs in). Fortunately, most of the lyrics are relatively simple and repeated so there really isn't any problem in following the story.
This helter skelter through highlights of Viv Nicholson's life leaves out lots of detail, including several more marriages and unmentioned setbacks, but its careful balance between Young Viv and Old Viv makes this more celebration rather than satire. Yes, there's a dark side, maybe a moral, but it is also a funfest and very enjoyable.

Postscript: it has been claimed that the 1999 West End production of Spend Spend Spend with Barbara Dickson earned Viv Nicholson £100,000 in royalties—they were all spent.
Reviewer: Howard Loxton