Spiderfly
John Webber
Metal Rabbit Productions in association with Theatre503
Theatre503
–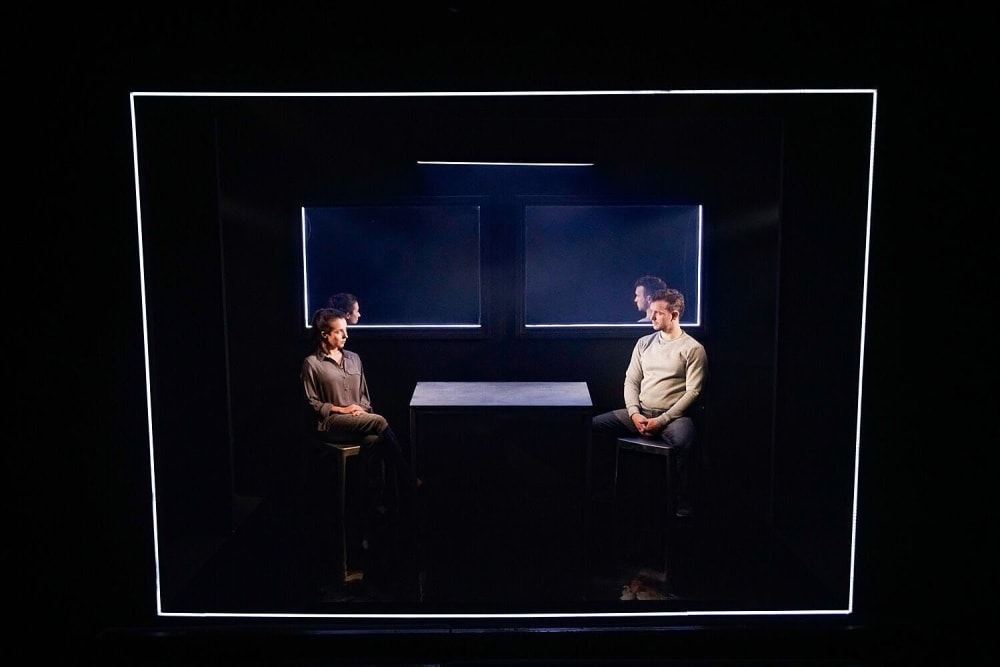 Setting the tone for the production, a stark, dark set greets the audience: functional table and chairs overlooked by mirrors, all perfectly framed by a neon strip. The cast are trapped in this cold place and the audience can do nothing but eavesdrop.
Esther is rebuilding her life. She's becoming a new woman, giving up smoking and practicing her smile. She's working through her issues, as is Chris, her date, who is devoting more time for self-improvement and active listening. But Keith? He's not stuck on therapy; he wants answers about the way he is and he wants someone else to figure it all out.
There's plenty to unpack in Spiderfly, a play about vulnerability and human connection, strength of spirit and dominance of ego. Each twist and turn is carefully plotted and an edgy atmosphere created through Kirsty Patrick Ward's taught direction.
As Esther, Lia Burge is a bundle of contradictions, anxious and gentle but with central steel. It's easy to like this straight-talking woman and to be drawn into her desire for details and the truth.
Embodying two entirely different characters, Matt Whitchurch simmers as Keith, the affable chat conflicting with his pent-up body language, the cocksure attitude both charming and dangerous. As Chris, however, he presents a measure of light relief, the scatty academic so caught up in doing the right thing that he borders on neurotic rather than thoughtful.
Through visits, dates, video calls and voicemail, Esther's relationship with these two men progresses, some steps faltering as her past threatens to overwhelm her.
Although the play is, quite literally, offering a window into the lives of the characters, there is enough unsaid to stir the imagination. Esther's relationships with her dad, her ex-husband and even her sister Rachel are not fully explored. Keith talks about himself but not friends or partners while Chris remains endearingly one-dimensional.
The spider analogy runs through the entire piece, leaving a trail of unease as the two actors become tangled, the characters drawn to the messy parts of each other.
Therein lies the playful contrariness of the play, however, as of course a spider's web is skilfully produced and the intricate patterns clear to see. Who is the spider and who is the fly in this intense relationship drama?
Absolutely gripping and performed with an electric energy, Spiderfly is a darkly satisfying short play.
Reviewer: Amy Yorston