Spring Awakening
Nook and lyrics by Steven Sater, music by Duncan Sheik, based on the play by Frank Wedekind
Aria Entertainment, DEM Productiuons and Hope Mill Theatre
Hope Mill Theatre
–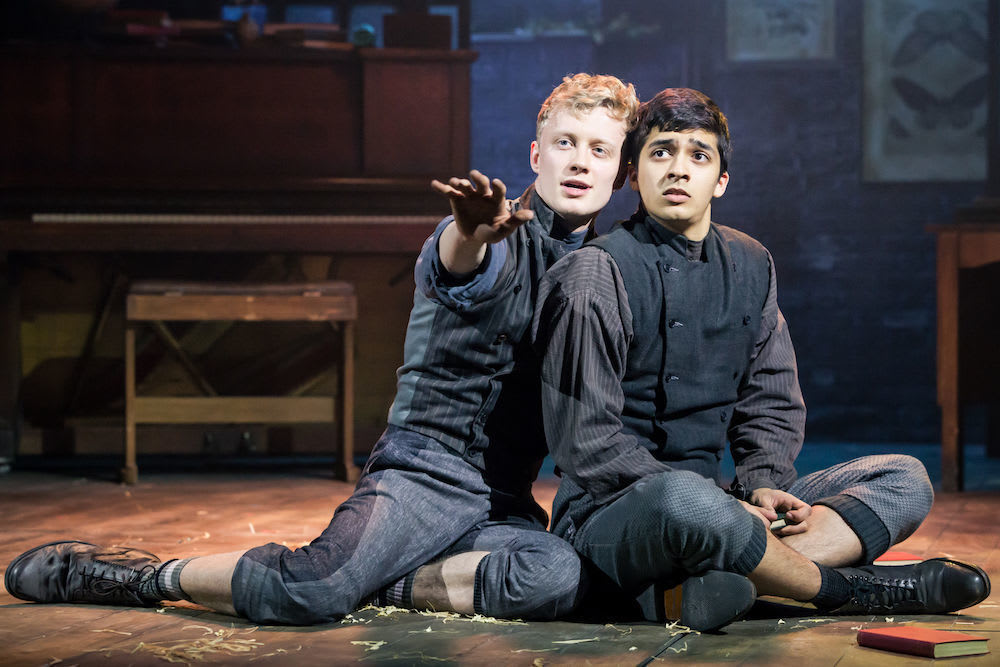 This 2006 musical, which received rave reviews and a cult following when it arrived briefly in the West End nearly a decade ago, is based very closely on Frank Wedekind's controversial play of 1891, focussing on the same adolescent concerns of sex, death, masturbation, suicide, homosexuality, academic pressures, mental health and parental control, but the addition of a rock score attracted young audiences who would not, perhaps, have gone to see a dusty old play that told the same story.
The play and the musical focus on the same group of teenagers in late nineteenth-century Germany. Fourteen-year-old Wendla (Nikita Johal) begins by asking her mother—who has told her off for wearing her child's short dress when she is already "blooming"—where babies come from, but she refuses to tell her. This becomes the recurring theme of adults—parents and teachers—keeping information from young people and punishing them for being curious and not following their orders to the letter, with tragic results (it is not a show with a happy ending).
Melchior (Darragh Cowley) is academically brilliant but a bit too creative for his teachers' liking. His friend Moritz (Jabez Sykes) is tormented by erotic dreams without knowing any more than Wendla about sex, so Melchior writes him a detailed essay with illustrations to explain all about it. This doesn't help his general confusion and depression—and when there are consequences to Melchior's entanglement in a hayloft with Wendla, this proof that he knew the risks is used against him.
The musical sticks very closely to Wedekind's original play. Not knowing the score, I was finding it difficult to tell what the songs added to the play (I was reminded of the old Woody Allen joke about the person who was removing the songs from My Fair Lady to turn it back into Pygmalion) as problems with the sound balance and quality meant that many of the lyrics were unintelligible and the music indistinct, especially in the big production numbers; this seemed better in act 2, perhaps as there were more songs with fewer singers. However "Totally Fucked" was certainly an act 2 showstopper, and the ending of "The Song of Purple Summer" had some beautiful full-cast harmonies.
The sound issue was one, albeit important, flaw that marred an otherwise very impressive evening. The set and costume design from Gabriella Slade, paired perfectly with some terrifically atmospheric lighting from Nic Farman, gives a stunning look to the whole production, with the incredibly detailed Victorian schoolroom set merging perfectly into the brickwork of the theatre.
Luke Sheppard's direction together with choreography from Tom Jackson Greaves make great use of the restricted space with the whole cast on stage creating some very interesting shapes, again beautifully lit, for a lot of the time. As a production, it's slick and impressive from beginning to end.
The cast are all committed totally with some stand-out performances from the main characters, particularly Cowley who really holds the story together. I'm not convinced by lumping all the adults onto the shoulders of two actors as Adult Woman (Gillian Kirkpatrick) and Adult Man (Neil Stewart); either the characters are distinct but comic caricatures or they are played more realistically, in which case it is difficult to work out whose parent or teacher they are.
It makes me wonder for how long we can continue to call Hope Mill a "fringe" theatre. It is a regional commercial producing house (how many of those are there outside London?) producing work that can compete in quality if not in scale with many of the major touring shows that visit Manchester, let alone the regional funded theatres.
If you can get a ticket and aren't shocked by teenagers being frank about what it is like to be a teenager, this is definitely a show to see. I need to get hold of a copy of the cast recording to find out what I missed.
Reviewer: David Chadderton