Spring Storm
Tennessee Williams
Produced by Royal & Derngate
Royal & Derngate, Northampton
(2009)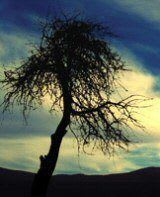 With theatres across the country battling to put on exciting work, whilst keeping audiences hungry and funding channels open, Northampton's Royal and Derngate again takes a brave plunge.
It is not the choice of playwright - Tennessee Williams is hardly an unknown and with his name on the ticket, popularity is not unexpected. However, when it is a lesser known play, one can only admire Laurie Sansom's Artistic Directorship - this is not a money spinner by any means.
Having reviewed the majority of Sansom's creations, Spring Storm stands out as a real triumph. Subtle yet painful, this is Tennessee Williams bought to life with a slick and clever directorial touch.
The first master stroke is to engage a talented cast of committed performers who work hard at portraying Williams' in-depth characters. The second is the employment of a good dialect coach - RADA's Rebecca Carey. So many American texts fall by the wayside in this country with bad accents.
This all adds to the overall ability to create excellent naturalism - nothing is left to chance and it is this detail that works. Along with everything you would expect with a naturalistic piece of theatre are the surreal touches that take this play beyond being a mere replication. Williams' extensive stage directions, for example, are delivered by a voice-over that almost makes the playwrights' voice come alive.
Added to this is an impressive set design that shows the result of the Southern storms that have plagued the town. Sara Perks once again delivers an excellent, creative background for the story to be told against. Think An Inspector Calls, only one step further.
The collapsed house becomes a basis for other scenes, all slickly created by the cast. Sansom's directing of the library set up has a touch of Frantic Assembly, perhaps influenced by the collaboration for Frankenstein.
This is what you expect with Tennessee Williams - stock characters that show up in his other plays and a symbolism that is simple but profound at the same time. A real coup for Royal & Derngate and a production that would easily hold its own in London's West End.
"Spring Storm" plays until Saturday 14th November 2009
Philip Fisher reviewed this production on its transfer to the RNT Cottesloe
Reviewer: John Johnson