Spymonkey's Oedipussy
Carl Grose and Emma Rice
Spymonkey
The Corn Exchange Newbury
–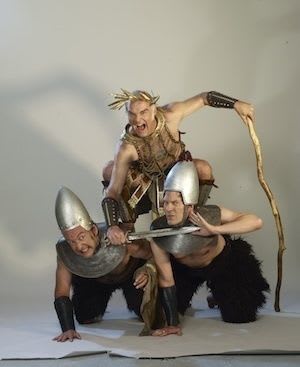 How do you describe Spymonkey's unique performance style, anarchic, zany, bizarre, outrageous or comic genius? Well it is all of these and in their latest production of Oedipussy the company combines James Bond with the classic Greek story of Oedipus with an abundance of energy, madcap humour, Pythonesque exuberance and hilarity that captivated the audience.
This talented international ensemble, consisting of Aitor Bassauri, Stephan Kreiss, Petra Massey and Toby Park, begins in a sombre mood berating the arts critic of The Scotsman who gave a damning review of their last production of Moby Dick.
In Oedipussy they have lampooned Sophocles' myth and given it a total makeover brimful of slapstick humour and outrageous physical comedy in this tale of forbidden lust, accidental incest, violent murder, a deranged son and a dysfunctional family.
Amongst the highly inventive clowning there are some stand out hilarious moments. I adored Bassauri's shepherd with large white furry balls attached to his coat rushing around the stage; "these are my sheeps", he explains. The totally tasteless yet side-splittingly funny song "Leprosy's Not Funny" had the audience in fits of laughter.
There are many opportunities for audience participation, especially when the cast are ad-libbing and when Laius visits the Oracle. This is ingeniously formed by three members of the company dressed in white carrying large white balls as eyes and a red one for the nose, which is sent flying into the audience who then throw it back in true pantomime style.
The action is frequently interrupted as each actor reveals their inner thoughts about life and being in the company. These personal monologues are moving from plans to leave the troupe to celebrating a 50th birthday in Lancaster to the frustration of a 50-year-old man playing a 17-year-old Greek boy.
Michael Vales's striking white set with ladders and opening panels is impressive with the cast using it to full advantage displaying their agility and physicality.
Lucy Bradrige's costume designs from Greek 'nappies' to togas and outrageous futuristic suits are beautifully complemented by Phil Supple's superb lighting.
Directed with aplomb by Emma Rice from Kneehigh Theatre, this is a highly enjoyable and entertaining evening.
Reviewer: Robin Strapp