Spyski!
Steven Canny and John Nicholson
Produced by Peepolykus and Lyric Hammersmith, in association with West Yorkshire Playhouse and Warwick Arts Centre
Northern Stage, Newcastle, and touring
(2009)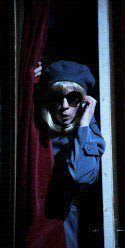 Peepolykus' Spyski! is like Hoipolloi's Floating, a piece you either love or hate, depending upon your sense of humour. I confess that I hated Floating - if you ever have a spare hour or ten I'll tell you why (the link above is to Philip Fisher's review: he loved it!) - but I enjoyed Spyski!.
The programme bills it as The Importance of Being Earnest (Absolutely not Spyski!... no way... no spies at all!), which gives a pretty good idea of what it's like. The basic premise of the piece is that a theatre company is rehearsing a (sent-up) production of Importance, when one of the actors becomes caught up in the murder of a Russian FSB agent when, suffering from food poisoning, he ends up in the same hospital room. Knowing that the authorities will not allow the facts to be made public, they decide to turn their production of Importance into the true story behind the spy's death, making the audience complicit in the subterfuge.
Along the way, they send up bad productions of Oscar Wilde, Katie Mitchell multimedia productions (The Waves anyone?) and every spy story from John Buchan to Ian Fleming via John Le Carré, whilst bombarding the audience with a continuous stream of sight-gags, slapstick, pastiche, parody, stereotypical Russians and jokes of all kinds, including, at Northern Stage, references to Newcastle United. But they manage all this without becoming self-indulgent, which is a difficult thing to achieve.
The pace is fast and furious throughout, with imaginative use of the Tom Piper's set, which includes a full proscenium arch (gold-leaf and all) with red plush house tabs (very much a first for Northern Stage!), and a beautifully realised railway train sleeping compartment which transforms into a disco (don't ask!). The cast of five play - pretty broadly, as is the nature of the piece - a wide range of characters with enormous energy. The characters are, obviously, caricatures but, being played with conviction, they never cross the line into silliness nor do we ever get the feeling that they are desperately striving for laughs. The laughs come - and not as single spies, but in battalions -
The packed Newcastle audience loved it, and I had a thoroughly good time. Another of our reviewers, who saw it last year, really didn't like it at all. As I say, it all depends on your selnse of humour.
This production was reviewed by Philip Fisher at the Lyric, Hammersmith, and Ray Brown at the West Yorkshire Playhouse
Reviewer: Peter Lathan